How To Use Reliance Jio 4G Sim In 3G Phones 
Reliance TeleCommunication has recently launched their Jio Sim into the market with unlimited 4G internet and unlimited free calls. In today's world smartphone has become an essential part of everyone's life. For the smartphone uses Reliance Jio Sim Welcome offer has become a treasure. But the Reliance Jio sim can work 4G, VoLTE supported handsets. If you wish to enjoy the unlimited offers of Reliance jio sim then you must purchase new handsets with 4G VoLTE supported phones.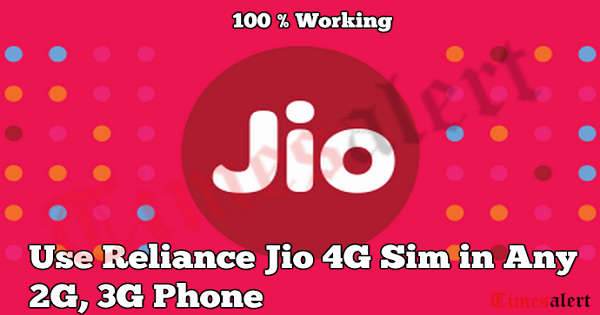 But not everyone has the 4G handset devices so everyone is looking for a way to use Jio SIM unlimited plans in 3G or 2G phones. To all the users here we share a simple trick to use Reliance Jio SIM unlimited offers on any 2G/3G phones. It is a very risky process, we are not responsible for any damages. So try this method at your own risk. If you don't want to take the risk and want to use Reliance Jio SIM unlimited offers then purchase a handset with 4G support. If you are ready to take the risk, then follow the instruction provided below.
How To Use Reliance Jio 4G Sim in Any 2G/3G Phone
Before starting the process first, check your handset to know whether it has a MediaTek chipset or not. This trick can only be used on MediaTek chipset device. If your handset is running on Android KitKat version then the process can be done easily.
Go to google play store and Download MTK Engineering mode.
Download and Install it to your device.
After installing it, open the MTK Engineering mode.
In the app, you can see two setting "Android Settings" and "MTK Settings"
Click on Android Settings

MTK Engineering mode App

You will not get 4 options on the menu "Device information", "Battery Information", "Usage Statistics" and "WiFi information".
Tap on the Device information.

Reliance Jio 4G Sim in 3g

Your phone info will be displayed on the screen
Scroll down and look for "WCDMA preferred" option.
Click and open that option.
Now scroll download and select LTE/GSM/CDMA auto (PRL).
After completing this process, reboot your device.
Wait for 10 minutes and insert Jio sim.
Trick To Use Reliance Jio Sim in Any 2G/3G Android Device
After inserting your Jio sim restart your device and wait for 10 to 20 minutes. Now you can use free internet data of Jio 4G SIM on your 3G device. You can only use internet data through this trick, call feature cannot be used.
In case if the above trick doesn't work, then try the below trick.
Dial *#2263# from your device.
A menu will be pop up, now select menu then click back and again select menu.
Now go to key input and enter 0000, wait for few seconds, you will get a popup.
Now select UE setting from the popup.
In SE setting, select settings> protocol > NAS > Network Control > Band Selection > LTE Band >
Select Band 40 under LTE band.
All completing all these setting, turn off your device and insert jio sim and turn on your device.
Wait for few minutes, 4G LTE network will be enabled on your 2G/3G device.
Now enjoy jio 4G sim unlimited internet on your 2G/3G phone. Keep visiting our website Timesalert.com for more Reliance Jio Sim tips and tricks. Reliance planning to launch Gigafiber net soon in all states in India, Reliance Jio Fiber Broadband Plans, Reliance Jio fiber plans to start from 500/- per month.