Are you a soon to be bride, getting ready for your big day? If the answer is yes, then we welcome you to this article which is going to be of immense help to you. Let us ask you one thing. Have you planned for your engagement day yet? If yes, then make sure to give this article a read! And if the answer is no, then also, we will be happy to assist you to get ready for the special day!
Latest Engagement Mehndi Designs
 It is an absolute dream of every Indian bride to look her best on her big day. But when you will be changing rings on your ring day, your hands will be the centre of attraction in the ceremony. Well, wearing the most beautiful pattern of Mehndi on your hands will bring the limelight back on you. So, make sure to pick up a unique pattern of Mehndi to make your engagement look worth remembering!
There are several designs and patterns to be tried on your hands if you are willing to experiment with them. No matter which pattern you opt for, you should be giving equal attention to every part of your hands. Mehndi can be done on the front hand, backhand up to the elbow, and even on your feet. With the help of this article, you will be able to make the most intricate design on your limbs and showcase your stunning wedding look on the big day!
Significance of Mehndi on Your Special Day
If we look at the sayings, the colour of your mehndi speaks volumes about the love between the bride and the groom.  Darker the colour of your mehndi, the stronger the bond between you and your spouse.
Supposedly, the dark shade of the mehndi also demonstrates the love and relation between the bride and her in-laws.
It is said that if the colour of your mehndi lasts longer, then it brings good luck to the couple.
Mehndi, or Henna, is said to stand for fertility or fruitfulness. It signifies growth, in general.
The substance is also said to have medicinal qualities. Mehndi helps in cooling down and relieving the headache, stress and anxiety that comes along with the strenuous wedding ceremonies.
Mehndi also works an anti-viral substance that supposedly shields the bride and groom from minor viral diseases before the wedding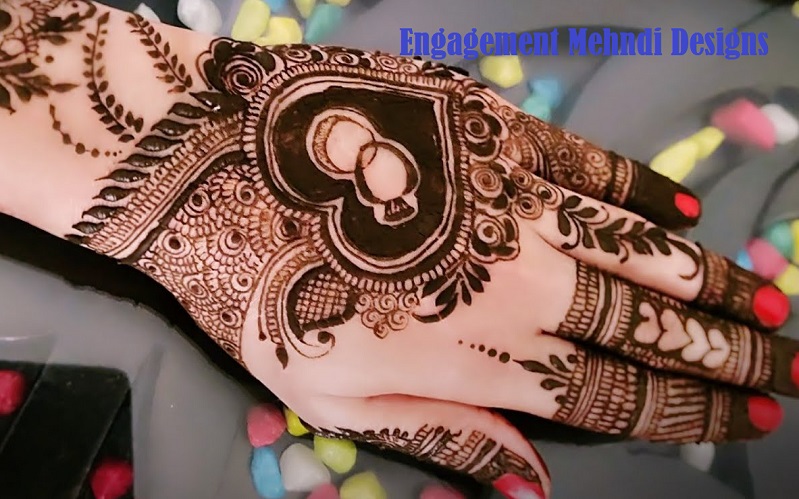 Latest Mehndi Designs for Engagement
Flower designs for bridal engagement
Flower patterns and floral designs will surely top the list if judged from the popularity perspective among brides. They help you get a unique yet delicate look on your arms and fingers. You can also border, dots and other patterns with the dominant floral patterns according. The combination of these minor patterns will help you bring out the best for better results. After making a few floral patterns in a particular sequence, you will need to border them and fill in the blank spaces on your skin with the supporting patterns.
Arabic mehndi is the best design you could go for if you want to create a special look on your engagement day. This pattern is made with big motifs, so most of your hands are covered with mehndi. This design will look tremendous, especially if you love thick and heavy designs. What can be better for a bride than a hand full of intricate, thick designs? This design is guaranteed to catch the attention of all the eyes around the bride. Also, let us tell you a secret. This design helps the hands look a little slimmer and longer.
Simple Mehandi Designs For Two Hands
If you want to go for the circular mehndi design, then the good news is that it is quite easy to make on your hands and feet. Since the designs are made around the circle, it is very easy to make shapes without misaligning them. After you draw a circle, border it with dots and kalka motifs for a pretty look. You can also make spirals and vines around the circle to give it a more aesthetic touch. Moreover, this design can be worn not only by the bride but also by the older women of the family. So, if you are running out of ideas, circular mehndi patterns can be your default mehndi pattern.
Engagement Mehndi Design for Full Hand
If you are going to be a bride soon, then your mehndi must look the best of all on your special day. And to ensure that you have the best design mehndi on your hands, you have to bring your attention to your whole forearm. you can make your hands stand out by wearing the mehndi all over your arms up to the elbow. This mehndi pattern is generally created with multiple mixed patterns. You can incorporate more than one type of pattern to create a heavier look for the day.
Simple Engagement Mehndi Designs
Having no particular and complex pattern on your hands is also considered to be a very elegant mehndi design. You can create a minimalist look using the henna on your hands by simply making a few simple shapes. Geometrical shapes are famously used for these simple mehndi designs. You can draw a few triangles, shade them, and make dots around them to create a simple yet catchy engagement look.
Red and Black Mehndi Design
You must have seen that mehndi turns out to be reddish on some people's hands and blackish on some others. The colour of your mehndi may vary depending on the type of mehndi you choose. So, if you are keen to create a new look with your mehndi, you can try combining the two colours of mehndi to shape the prettiest patterns. You can use the red mehndi and black mehndi alternatively to make your henna designs more interesting. Also, two colours are always better than one colour!
Engagement Mehndi Designs 2023
Engagement Mehndi Design for Foot
You should consider wearing mehndi on your foot as that would make you look like the most stylish bride in the town! But mehndi designs for hands would be different from the feet designs. Our legs are wider and thicker than our arms. So, it would be best if you can make bigger patterns on your feet for the most charming look. You can try making the same motifs as your hands, but bigger. Also, getting your legs waxed and nails pedicured will ensure a darker colour of mehndi on your feet.
Another beautiful mehndi design for the brides is the flash design. In this type of mehndi design, you can try making a series of shapes surrounded by dots. The patterns are often discontinued to make it appear like a short and simple pattern. You can create as many flashes as you want to cover the forearm and fingers. Make sure to pair it up with hand jewellery to get the most appealing look.
Peacock Motif Mehndi designs
Peacock feathers are beautiful motifs when it comes to mehndi patterns. You can try to draw the feathers and then border them with other shapes. If you are willing to put aside the dilemma and try your hands on something more exquisite, you can always switch to drawing peacocks as a whole. That might take some time to make, but trust us when we see that all your efforts will be worth it if you can manage to make the design. Try adding more feathers to your drawing for making your mehndi look more sophisticated.
Floating Lotus Design
Another excellent mehndi design for your engagement is the floating lotus motif. Why floating? Because that would allow you to add string patterns around the lotus to make it a complete piece of art. For a more artistic look, you can try to add peacock feathers to your lotus design, or simply fill the lotus petals with tiny peacock feather motifs. This mehndi design is responsible for adding a royal look to the hands.
Blooming Flowers Motif Mehandi Designs
Colourful and fragrant blooming flowers are always a thing of beauty. What if we say that you can bring this beauty right on your hands and be called the prettiest girl in the house? The blooming floral patterns can stick out from a branch like a pattern filled with tiny stripes or checks. The flowers can be drawn making several droplet-like shapes next to each other. This fascinating design can be easily worn by the family members of the bride and groom as well.
Autumn Leaves Design
If you want to go for the autumn leaves motif in your mehndi ceremony, then you must come to terms with the fact that this design does not help you cover the whole of your palm. You can leave your fingers free so that your engagement ring can be put to display. Try making the leaves maintain a certain distance for the most attractive mehndi design.
Large Flower Petals Design
If a flower is a famous motif used for mehndi designs, then petals are no less famous. You can go for petal patterns instead of going for the whole flower. For example, you can try making rose petals, and then smaller petal motifs within the larger petal, and so on. On the outer side, make small round shapes filled with dots with vines sticking out. Repeat the same pattern diagonally and fill the blank space with similar petal motifs.
Gol Tikka Mehndi Design
The beauty of gol tikka mehndi enjoys immense popularity among the would-be brides. The design is comparatively simple and easier to make than any other mehndi pattern and yet it speaks volumes. You need not be an artist to make small Bindi shaped round patterns and fill them with more mehndi. As we said, the pattern is the easiest one to keep up with, but contributes a lot towards the enhancement of your bridal look!
Stone Studded Mehndi Design
The engagement ceremony is going to be taking place keeping you in the centre of the stage. Your hands will be all put to the display thanks to the ring you are going to wear. Therefore, your mehndi must have that sparkle in it. Why not wear a mehndi design that lets you add some glitter and stones to it? Make mehndi designs keeping a blank space in the centre of the pattern so that you can add stones when the mehndi sits dry on your skin. Highlight the stone with glitter around the pattern.
Mirror Image Mehndi Design
Symmetrical things are often seen as beautiful. The same is the case in the case of mehndi as well. If you want to rock the mehndi design on your limbs, you can try creating patterns that are the spitting mirror image of each other. For example, if you are making a circular shape and peacock feathers on one hand, then go for the same design on your other hand as well, just change the direction of the feathers. Making such mirror image patterns on your hands will give you a complete look when the hands will be joined together.
  Tattoo Style feather Motifs
With everything being modernized, mehndi designs are also changing fast. The preferences of the brides are shifting from the traditional ones to the contemporary ones. In the case of mehndi, brides are out in the search of modern yet classy patterns that will not overshadow their bridal outfits of theirs. For this, you can try going for a tattoo style feather motif. All you have to do is just draw bird feathers and join them with a chain like mehndi shapes. The selling point of this mehndi design is no doubt its simplicity.
Net Pattern Mehndi Design
Lace gloves are a beautiful addition to any attire. If you are also a fan of lace gloves, then maybe you will be interested in creating similar patterns on your hand with mehndi. You can draw parallel diagonal straight lines son your hand. Then, draw another set of parallel diagonal lines from a different direction. It will create a net-like pattern on your hands. Now place dots and other tiny shapes and borders to complete the lace glove pattern.
Mandala Design Adorned with Stones and Pearls
One of the most classic Indian mehndi designs is the mandala art mehndi pattern. Not only the prettiest one, but it is also the easiest one to make. These designs are generally very compact looking since they do not have much going on on the outer side of the patterns. All the shapes and shading are done inside the circle. But you can draw temple-like shapes around the mandala to make it look even better. The mandala art signifies the completion of a cycle, therefore this mehndi design is said to bring completion in the marital lives of the couples.
Bangle Style Mehndi Designs
Bangle style mehndi designs are one of the most adored mehndi designs in Rajasthan. But nowadays, this design is getting quite famous for its unique and trendy form. This design is made with drawing floral patterns and jewellery patterns in particular. The orbicular bangle shapes are made and the alternate shapes are left unfinished for the special effect. The patterns are generally long and continue up to the elbow, creating an illusion of wearing multiple bangles.
Bride and Groom Design Mehndi
Here comes the most significant mehndi design that can only be worn by the bride and groom themselves. One part of this mehndi showcases the bride and the other part of the mehndi showcases the groom. This design, however, can be hard to draw on your hands all by yourself. To seek assistance from professional mehndi artists would be the best solution if you are willing to wear this mehndi. The bride and groom designs are further decorated with other common motifs such as leaves, flowers etc.
Morocco Style Mehndi Design
Morocco style mehndi is mainly influenced by local and tribal designs. They have characteristic zigzag borders and geometric shapes, stressing unorthodox beautification. This kind of mehndi design is similar to the western tattoo artworks among the tribes. If you are interested to try out something new, then Morocco style mehndi designs might be your top choice. However, these mehndi designs are not very feminine in appearance since they are mostly worn by the tribal men of the country.
Heart Shaped Mehndi Designs
Heart shaped mehndi is yet another sought-after design nowadays. Since marriage is the holy union of two hearts, the design goes very well with the day. It perfectly captures the essence of the festivity with its intrinsic patterns. First of all, you will have to draw a half heart on one of your hands. After that, draw the other half of the heart on the other hand. So, when you put your hands together, the design will come up as a whole heart, decorated with flowers, petals and feathers.
Matka pattern mehndi Design
Matka, kalash or pots are held to be very important in Hindu marriages. Therefore, if you are willing to go for a traditional mehndi look, you can try drawing matkas or pots on your hands. The patterns can be further modified with the addition of shapes like crown and temple forms inside the pot motifs.
Musical Mehndi for Brides
Are you a musically minded bride who just can not go a day without music? If yes, then you can showcase your love for music with the mehndi designs on your hands and feet. Try to make a table, flute and shehnai motif with your mehndi. This design will make your look different from others and make people ask about it!
Tips and Tricks
If you want your mehndi to last longer, then you should always make sure to get your waxing done before wearing mehndi. If you can scrub your skin, that would give you even better results.
Wash your hands with gentle liquid soap and rinse well before you apply the mehndi.
Pick a well-known mehndi brand, you don't want to apply mehndi only to find out later that the colour payoff is not up to the mark.
Make a solution of lemon juice and sugar water. After your mehndi dries, spray the solution on the design to make it last longer.
Once you scrape your dried mehndi, avoid water for the next few hours.
On the day of the mehndi application, you can leave your mehndi soaked overnight in oil. This will ensure your mehndi colour gets darker.
You should get done with the mehndi application 1 to 2 days before the ceremony day.
Engagement Mehandi Designs Front and Back
The word 'Mehendi' is originated from the Sanskrit word "Mendhika". This only proves that the mehndi was equally famous and in practice in ancient India as well. The substance is not exclusively worn by women, as men of the tribal groups also wear mehndi as a beautifier. No wonder that mehndi is such a celebrated ceremonial substance famous among both men and women.
Though henna is generally brown, the red and black variations of mehndi are equally popular among people. However, in this article, we tried to give you an idea of mehndi designs altogether. We hope that you have already picked your favourite one from the list! But you can always make use of your creativity to make these general ideas far more fascinating.
For example, you can play with several colours and decorate your mehndi with stones and glitters for a fresh look. We wish that your big day gets more colourful with the amazing mehndi ideas we curated especially for you!