A Mangal sutra is the holy symbol that stands for the marital status of women in India. The traditional  Mangalsutra is made with black beads and pure gold. But there are different types of gold Mangalsutras in different parts of India. As the traditional Mangal sutras are the everlasting symbol of love in a marital bond, they are never out of demand in the market.
Gold Mangalsutra Designs
While some Indian women prefer to wear a mangalsutra daily, other women prefer to wear them only on special occasions. But a gold mangalsutra is not just a simple piece of jewellery, it signifies a lot more than just working as a style statement. This charming neckpiece exudes an aura of immense cultural value in Indian households.
Nevertheless, that does not have to mean that you will have to stick to the traditional designs of mangalsutra only. While each piece of mangalsutra signifies the auspicious bond between a couple, they can be different in design, size and style. So, it is completely understandable if you are looking for such unique latest designs of Mangal sutra to flaunt your happy marriage as well as your style quotient. We will try to compile the different types of gold mangalsutra so that you can choose from them easily!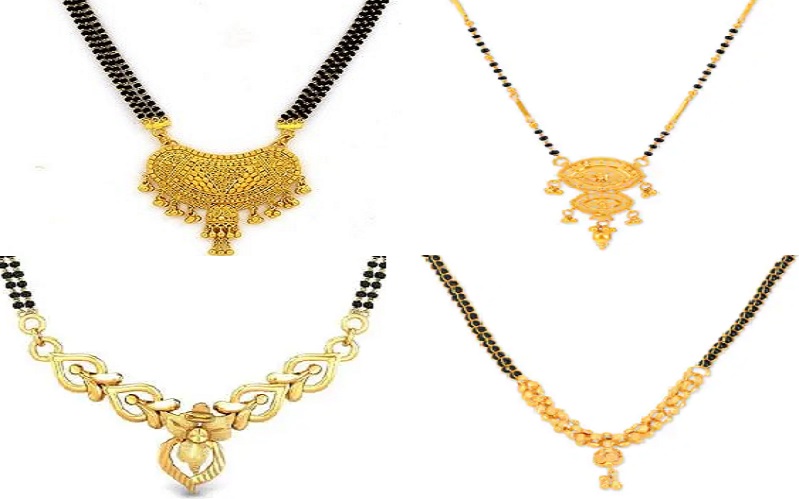 Gold Mangal sutra – Features and Importance
Let us first have a look at the prominent features of gold Mangalsutra latest designs:
Gold Mangalsutra latest designs are generally made with 14k, 18k and 22k gold.
These traditional mangalsutras are made with black beads and also in thin, single-chain models.
The modern designs can, however, flaunt a chain with black beads and a pendant made of either gold or diamond.
You can pick your mangalsutra depending on the event you are going to attend.
You can also opt for a gold mangalsutra with matching earrings to enhance your whole look.
The millennials, however, are being seen to prefer the modern, contemporary latest designs over the heavy, traditional gold mangal sutras.
Latest Simple Gold Mangalsutra Designs
Mangalsutra in Drawstring Bracelet Style
A bracelet style gold mangalsutra looks very modern and therefore, it is the best option for those women girls who do not feel comfortable wearing any kind of neckpiece. If you opt for a bracelet style mangalsutra, then you will also be able to wear it on any occasion without having to worry about a modern outfit. It fits all of the wrist sizes because of the chain style, so that is another issue you got resolved! The sleek golden chain adds to your fashion appeal while the beads add to the traditional value.
This type of modern mangalsutra was specially created for Piggy Chops by the renowned designer Sabyasachi Mukherjee. These mangal sutras have a very thin and intricate golden chain with a few golden and black beads in between the chain. The pendant is also not a heavy one. Made of uncut, shiny diamonds. If you are planning to wear your mangalsutra every day, then this type of design is a perfect fit for you.
Gold Mangalsutra Design in Maharashtrian Style:
If you are looking for a long chain mangalsutra that is quite on the traditional side, let us introduce you to the beautiful Maharashtrian long-chained mangal sutra design. There is a thick gold chain paired with black beads, further attached to a heavy gold pendant in the middle. This mangalsutra has elements of bright colours in it as well, as there is intricate enamel work in red and green colour. If you have always been a fan of Maratha style pieces of jewellery, then is indeed the kind of mangalsutra you should be going for. This mangalsutra can be worn at weddings and festivals for its heavy design.
Gold Mangalsutra Long and Short Designs
Being a fashion enthusiast, you must have heard of the white gold jewelries that are topping the demand list of women nowadays! So here, let us tell you that this white gold beautifully paired with diamonds in the making of a modern, contemporary style mangalsutra. You can go for a 14k white gold manga sutra that has uncut diamonds in the pendant to match with any outfit. This type of mangal sutra is a must-try if you have ever wondered about the charm of white gold in jewellery! Be the life of your evening party with this stylish neckpiece.
Not a big fan of heavy golden pieces of jewellery? Nevertheless, want to wear a mangalsutra? Here is the solution. You can try wearing a sleek mangalsutra that is gold plated. 1 gram of gold enough to make such a light and sleek alloy mangal sutra, so the budget is also taken well care of. You can go for a two-layered chain with a modern-looking pendant with floral, geometric or spiral motifs. Such gold plated Mangal sutras can be worn on any occasion.
Mangalsutra Long Designs
Gold Mangalsutra Pendant Set With Floral Design:
You can opt for a uniquely designed pure gold mangalsutra with a long chain and flower-patterned pendant. This type of neckpiece will help you get an elegant and classy look while enhancing your sober choice. You can keep the floral patterns repeated to bring a heavy, bushy look to your pendant. You can also try a pendant with limited floral patterns to minimize the design. This floral piece proudly worn on any occasion, and at any time of the day. You can go for a set of matching earrings to accentuate your floral lightweight mangalstra design.
Double Chain with Golden Balls
Tired of the design of the black beads in the Mangal sutra? Let us make it a bit more interesting, then. You can opt for golden balls instead of going with the same old black beads design. One should know that even a golden bead is seen as an auspicious and significant element in a golden Mangal sutra. You can choose a Mangal sutra with golden beads and a gold pendant in the middle. Pick up the pendant design carefully here, because that will be the centre of attraction in your neckpiece.
Mangalsutra with Kundan Style Pendant and Thick Gold Chain:
If you wish to opt for a 22 k traditional style gold mangalsutra of medium length with Kundan work pendant design, then you can try this mangalsutra model in your wedding. Kundan pendant is always a sign of great taste which contributes much to give you gives you a gorgeous look. This mangalsutra styled with your heavy saree, lehenga choli or your traditional Anarkali on festive days. This modern mangalsutra boasts grand embedded beads with a golden chain with black beads. You can wear this piece at small gatherings and also on daily basis.
Gold Mangalsutra Stylish Designs
Temple Jewellery Style Gold Mangal Sutra:
Temple design is currently in trend and you can try this style in your gold Mangal sutra too, to bring a different essence to your look. If you like to experiment with jewellery designs, then you can go for a gold mangalsutra with a temple-style design, further enhanced with beads of different colours. This mangal sutra paired up with any dress and you can wear it at weddings and festivals. You can try the mangalsutra with a printed image of Devi Laxmi.
Gold Mangal Sutra Set with Unique JhumkhaPendant:
Who does not love to wear jhumkas? No hands raised! We know that jhumkas are immensely attractive when it comes to earrings. But what if we spice up the game a bit and experiment with our traditional mangal sutra? Yes, we are about to tell you to try jhumka design with your Mangal sutra as pendant. No doubt your neckpiece will stand out in the crowd. You can make your look absolutely royal and distinguished with a tinge of experiment in the shape of a jhumka pendant! This type of mangal sutra can be used as casual wear.
Chain Style Gold Mangalsutra with Multi-Layers:
If you are fond of the long, traditional style mangalsutras, then you must take into consideration the pattern we are going to talk about. You can create a beautifully traditional and ethnic look by carrying a mangalsutra with more than one layer of chain. This mangal sutra is indeed going to give you the feel of a queen.
Beautiful Circular Pendant Mangalsutra Design:
If your mind is made up about having a mangalsutra that is simple yet elegant in design that will never your outfits, then you can think about buying a mangalsutra that has a simple round pendant attached to it. You can stylize the round pendant with a single golden bead hanging from it. This design is going to make you look stunning without having to give much effort. Also, this type of mangal sutras can be worn regularly, so that is a plus!
Latest Mangalsutra Long and Short Designs Online
Heart-Shaped Tiny Pendant:
If you have a keen interest in making your accessories look stylish with minimal effort, then we can suggest you go for a gold Mangal sutra which has a heart-shaped golden pendant attached to it. You can further make it more personalized by engraving the good name or the initials of your husband within the heart-shaped pendant. This is indeed going to stand out and give a personal touch to your neckpiece, making it more special. You can wear this mangal sutra as casual wear.
If you are proud of wearing a gold mangal sutra and your love for the neckpiece gets expressed in your flaunting of the same. Then make sure to keep in mind the unique designs of mangalsutra we discussed in this article.  make special notes of the designs, size and length as well, as they are important factors in deciding your mangalsutra's type. Also, make sure to specify your needs while going to buy a neckpiece as the customization of your mangalsutra depends on your demand. We hope this article was able to help you decide which kind of mangalsutra you need around your neck.
People Also Ask On Gold Mangalsutra Designs
What is the price of gold mangalsutra?
The price of your mangalsutra depends on the type of gold you are going for. Also, the shape and design are responsible for varying prices of gold mangalsutra.