Salar Jung Museum is the third-largest art museum in India. People who love to learn History of India, then this is a heaven for them. This Museum is known for the passion of arts and antiques. People are visiting the place to watch those antique pieces. If you are staying in Hyderabad or you have come here for a tour, once you must visit this place.
In this Museum, lots of arts and antique pieces are available. The SalarJung Museum authority takes care of these unique items. For the visitors, the information about the Museum discussed below. We can check the Salar Jung Museum timing slots, ticket prices, and other instructions from this article.
Salar Jung Museum Hyderabad
Salar Jung Museum is the third-largest art museum, located at Dar-ul-Shifa which situated on the southern bank of the Musi River in Hyderabad. This Museum inaugurated on 16th December 1951. In this Museum, many types of antique pieces are available which has collected from Japan, China, Burma, Nepal, India, Persia, Europe, Egypt, and North America. This museum has a collection of carvings, textiles, sculptures, paintings, ceramics, manuscripts, metallic artifacts, clocks, carpets, and furniture. Total 1.1 million objects are available in the Museum.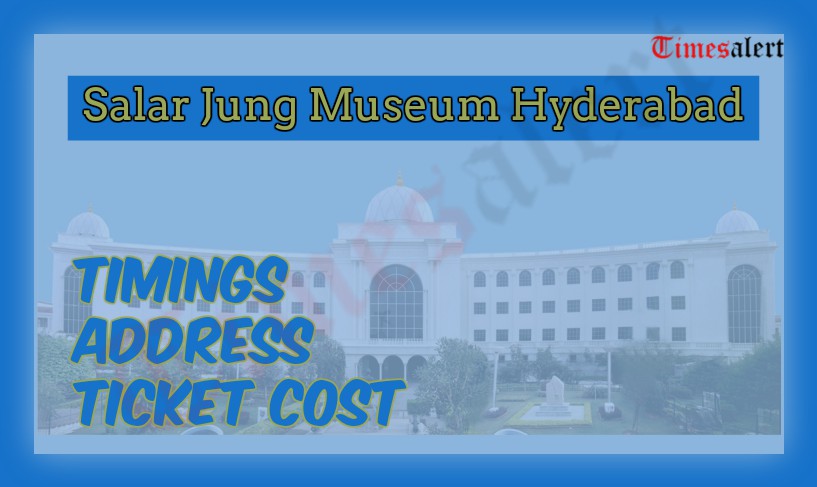 The Salar Jung Museum spread in 10 Acres and having two floors. It is one of the largest and most significant art museums in India. This museum is the crowning jewels for the Hyderabad. In museum also several priceless sculptures are available such as Veiled Rebecca, Double Statue of Mephistopheles, Margaretta and many more things open for the visitors to see. An excellent library is there, where around sixty thousand books and almost eight thousand unique manuscripts available. For visitors, Shadaam Hotel and Museum Cafeteria are open inside the museum.
History of Salar Jung Museum
Nobleman Nawab Mir Yousuf Ali Khan, who is also known as Salar Jung III, has collected the significant portion which displayed in the Museum. He gave 40 years of his life to receive all the antique pieces for the museum. It believed that the present collection is half of the original art. Pandit Jawaharlal Nehru inaugurated the Museum on 1951. For the museum, the Salar Jung family had donated all gatherings to the Indian Government in 1958. All the collections had shifted to the current location in 1968. Per day around 12,000 visitors is coming to see this Museum.
Salar Jung Museum Timings
The Museum closed on every Friday and Holidays. Otherwise, it opens in all days, and the opening and closing timings are the same.
| | |
| --- | --- |
| Days  | Timings |
| Sunday- Saturday | 10:00 am to 5:00 pm |
| Friday and Holiday | Closed |
Salar Jung Museum Ticket Price
The entry ticket price for the Museum is very low for the Indians.  For students who carry their ID card, the ticket is free, and for the defense personnel, 50% concession is there.
| | |
| --- | --- |
| Visitors   | Ticket Price |
| India | Rs. 20 |
| Foreigner |  Rs. 500 |
| Students (with ID) | Free |
| Defense Person | 50% off |
| Entry with Camera | Rs. 50 (extra charges) |
Attractions in Salar Jung Museum
In this Museum, many attractive places available for visitors. Some of those are:
Salar Jung Museum Clock
Veiled Rebecca
Japanese silk paintings
Chinese Porcelain
Mughal Miniature Paintings
Arabian and Persian Manuscripts, etc.

How To Reach Salar Jung Museum
Visitor can easily reach at the SalarJung Museum by Road or rail. The nearest railway station is Kachiguda and Nampally. Also, there are many buses available from any part of the city to the Afzalgunj, which is the nearest bus stop to the Museum. Visitors can also take private transport and two-wheelers.
Salar Jung Museum Rules
Before coming to the Museum, the visitor has to know all the rules. The rules are:
Visitors are not allowed to touch any pieces.
Smoking and drinking in the museum is strictly prohibited
Visitors can't use their mobile phones inside the museum
Don't carry any objects like knives, scissors, blades, razors, matchboxes, lighters, etc.
Salar Jung Museum Contact Number, Address
Address – Salar Jung Road, Near Minar Function Hall, Darulshifa Hyderabad – 500002
Salar Jung Museum Contact Number – 040 2457 6443
Website – www.salarjungmuseum.in
For more updates and information, check Timesalert.