Nowadays, watches are operating smart. They are used to make phone calls, listen to music, give our health updates, etc. They are like wearable computers. People who don't have a phone can now use smartwatches. Yeah! Smartwatches are used for various purposes, similar to our smartphones. You can now manage with your smartwatches if you do not have a phone. Also, know about Best Apps For Apple SmartWatch Series.
Make Calls On A Galaxy Watch
Until 2010, the use of smartwatches was infrequent. After that, 15% of tech users use them. After 2015, school-going children in China also started using smartwatches. Not only for children, but they also help elders suffering from different diseases by reporting their location to the caretaker if they're lost or fell. Today, they are used for communication purposes and also as fitness trackers.
Samsung galaxy watches are electronic smart watches designed by the Samsung company. The Galaxy watch includes mobile apps, wifi connectivity, and Bluetooth connectivity. We can listen to music, play games and also make phone calls.
Like smartphones, they also have chargers generally powered by rechargeable lithium-ion batteries. It offers you to customize the watch straps and also has an option to select lightweight silicone material watches. In 2019, Samsung stood second in producing quality smart watches after Apple.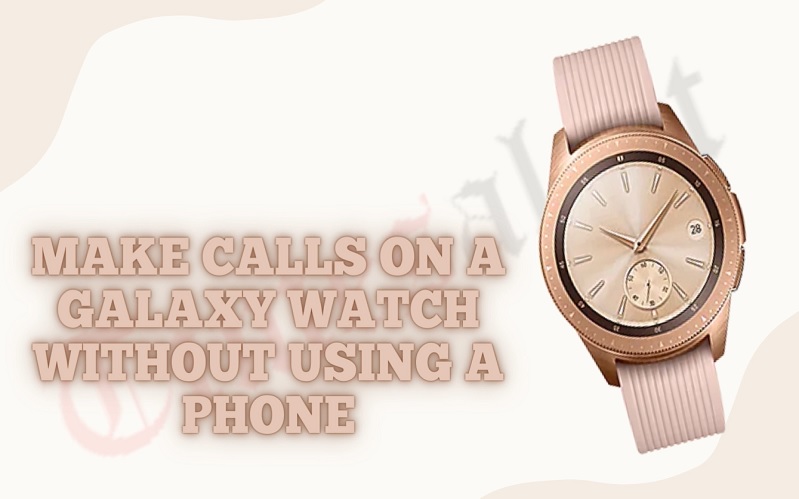 How To Make Calls On A Galaxy Watch Without A Phone?
The Samsung company released a smartwatch named Samsung Gear 2 with a digital camera option with a resolution of 2 megapixels and a video recording option of 720 pixels. It is like a personal trainer. It gives you health and fitness tips and lets you focus on more exercise with less planning.
This Smart Watch can measure your heartbeat rate, the number of steps you've walked, and the number of calories you've burnt. Galaxy Watch gives your whole day review before bedtime, like health data based on your sleep patterns. It is water-resistant to 50 meters in depth and durable. Its battery capacity is 472 mAh / 270 mAh.
Steps to make calls on galaxy watch
Open the phone app on your Samsung Galaxy smartwatch.
If you sync your smartwatch with your phone, your contacts automatically also get synced with the watch. After opening the phone icon in your smartwatch, you can see your saved contacts.
If not, you can tap the keyboard icon to input the phone number.
To select the contacts, you can find the contacts icon beside the keypad icon to select a contact.
Then, tap the phone icon that is in green color to make a call.
The watch starts making the call. To end the call, you can tap on the phone icon that is in red.
You can also change the volume on the watch during the call. You can mute the microphone, and you can also transfer the call to the phone. If you get an incoming call, you can lift it by swiping the green-colored phone icon up or down, and if you want to end the call, you can swipe the red-colored phone icon up or down.
You can find the volume changing option down the call timer. There, you can also find the icon with three dots. By tapping on the three dots icon, you can find the switch to phone option, keypad option, and swap the call option. You also have a Bluetooth option. You can find the Bluetooth icon option down the call timer on display. By tapping on this icon, you can connect your smartwatch or your call on the smartwatch to wireless speakers like headphones, etc.
How to make phone calls on the Samsung galaxy watch without using a phone?
You can make phone calls on the galaxy smartwatch if you are connected to your phone via Bluetooth.
You can also make phone calls on the galaxy smartwatch if you have the Long Term Evolution (LTE) option. It is similar to 4G. You can add this option to your galaxy watch by visiting the nearer electronic shop or technically by visiting online websites or youtube.
You can make phone calls by an eSIM option, i.e., if your watch is provided with an option of SIM insertion. By this, you can access to make phone calls. Else you need to follow the below-mentioned methods.
If you don't have an eSIM option, you need to connect to your phone via Bluetooth. An eSIM option is seen on most Galaxy watches, but it may be expensive. If you have the SIM card option, your watch will have similar options to that of the smartwatch.
Making A call On Galaxy Watch Without A Phone?
The only disadvantage of having a smartwatch instead of a phone is that its LCD is relatively smaller than your smartphone to edit or create documents.
Samsung's products are highly preferable to use after Apple. They have better features than many other smartwatch companies. Samsung Galaxy watch gives a new definition for authenticity or being authentic. It gives you the natural feeling of a watch by its ticking sound that no one can identify that it's a smartwatch, but it is a smartwatch. Samsung is a suggested option for people who need a smartwatch that is not as expensive as Apple but is good at features. Hopefully, you've understood the logic behind making phone calls on the Galaxy watch with and without using the phone.
People Also Ask On Galaxy Watch
Can we call from iPhones?
It is only possible if your galaxy watch supports pairing with iPhone. If it does, the feature works; otherwise, it doesn't work.
Can you receive calls via Whatsapp, Facebook, messenger, etc., on your galaxy watch?
You may get the notification of incoming calls if installed on your watch, but you cannot directly answer them. To answer those, you need to connect your watch to the phone.
Can Samsung galaxy watch make video calls?
It does if it has an inbuilt camera in it. Most of the galaxy watches don't have it, but the new galaxy watch models have this option.