Back in 1921, the TMB was known as Nadar bank. And later on, after some time, its name got changed to its current name – Tamilnad Mercantile Bank in the year 1962 to reach out to more people in India and other places. The headquarters of the bank is located in a place called Thoothukudi situated in Tamil Nadu, India. Now let us know a few details about TMB Net Banking its login process below.
TMB Net Banking
As the TMB has grown over the years, it has established over 509 branches of its bank across India. This bank also enables its users to avail of services digitally, i.e., they can even use net banking easily without any complications.
TMB's internet banking services availed anytime and anywhere by its customers without needing to visit the bank. To avail of the net banking services of TMB customers have to register and log in.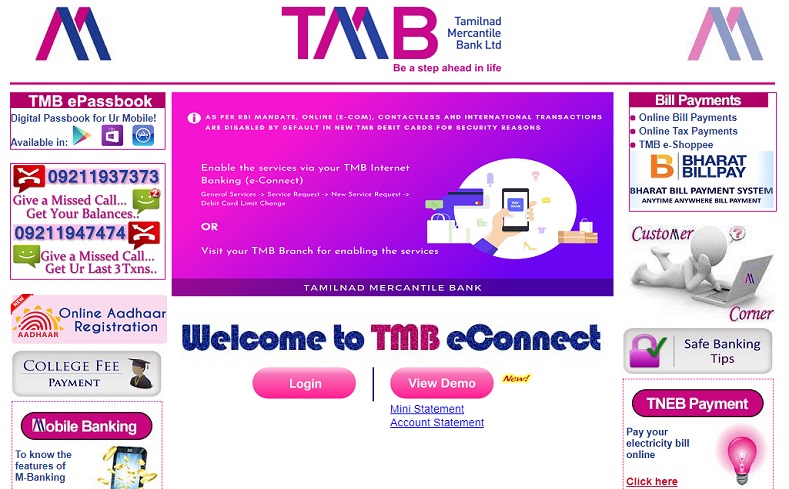 TMB Net Banking Registration Process
Supposing that you already have an account or savings account with the TMB Bank, you can access the internet banking service by following the given below steps-
Make sure that you have an active account on TMB and that your existing mobile number is registered and connected to your bank account or else you won't be able to register for Internet Banking-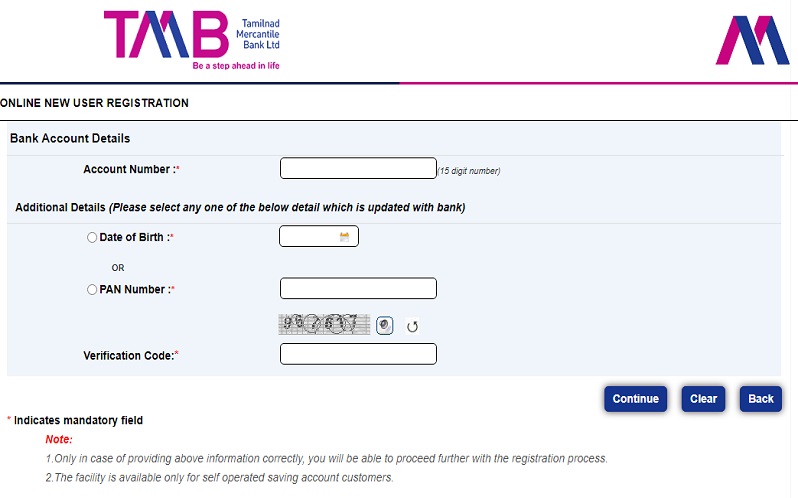 Go to the official website of TMB
Click on the button saying Login then continue to log in
Then under the login section, look for the 'Register for New User' button and select it.
Now you see the 'Terms and Conditions' page, read it, and then click on the Agree button.
Then to register newly as an online user, fill in the below mentioned correct details-
–        PAN Number or Date of Birth
–        Account Number
Then complete the Captcha Verification by typing in the number showed in the Captcha
On the next page, you will be asked to type in the OTP that you have received on your registered mobile number
Then click on the continue button
Type in your new User ID
Login Password
Then again enter the login password to confirm it
Then finally click the continue button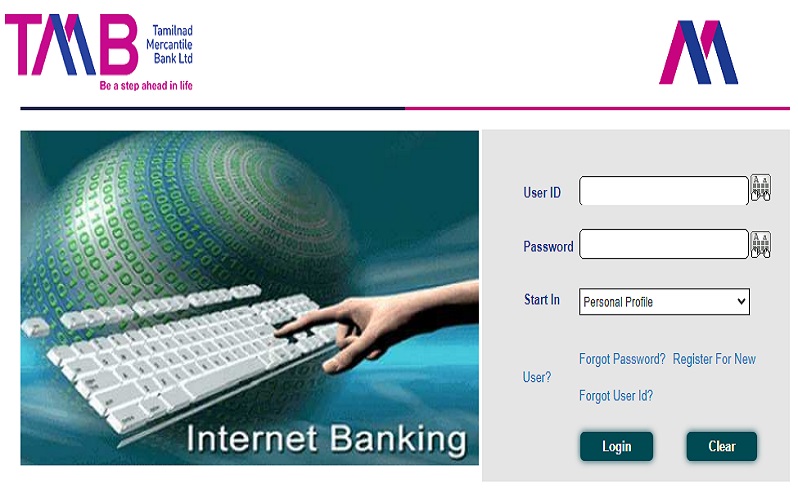 By following the above steps, you can create your TMB internet Banking account online simply provided that you already have an existing account in the TM Bank.
Steps to Reset the TMB Net Banking Account password?
If in case you have forgotten the password to your existing registered net banking account then you can reset it by both online and offline methods.
Password reset using the online method
Go to the official web page of TMB net banking https://www.tmbnet.in
On the home page of TMB, look for the tab saying 'Forgot Password' and click on it.
Then you asked for your account number, after which you have to answer the security question which you had set during the registration process.
Then you directed to a password resetting page where you can create a new password and go back to availing of your net banking services again.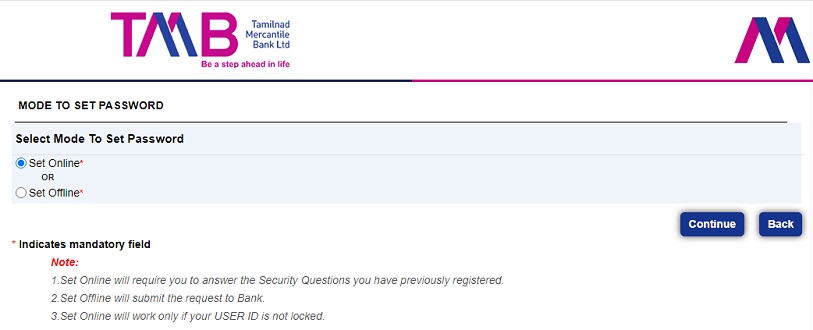 Password resetting using the Offline method
Go to the official website of TMB net banking and look for the 'Forgot Password' tab and click on it
Look for the option 'set offline' and click on it
Then type incorrect details of TMB account number, User ID, Email ID, and Registered Mobile Number.
Then lastly, click on the continue button after which your request submitted to the bank branch.
TMB strongly advised its users to protect their sensitive details attached to the net banking account as even the slightest carelessness can lead to the illegal transfer or theft of funds. The Bank urges its users to keep their passwords safe and sound and not tell them to even the bank's officials. For more information check Timesalert.
It is best to keep the bank up to date with any changes in the registered mobile number, email ID, etc. So those maximum efforts taken to keep your account and data safe.
Conclusion
This article has covered all the necessary steps for the registration and login for Tamilnad Mercantile Bank to avail of Net Banking services. Steps to change the password using offline and online methods have also been included.