Free Text to Speech Apps for iOS, Android
Apps that convert text to speech are transforming productivity. Why would you waste your time parked in front of a screen when you are in the digital world? Can you multitask and never miss a beat? The best text to speech apps allow you to accomplish far more than you could with your eyes alone. Also, check text to speech softwares.
What Are the Best Text-To-Speech Apps?
The majority of smartphone text-to-speech apps are free. They have features including reading typed text, documents, and ebooks, among others. Choosing the finest text-to-speech applications requires investigating the many features offered by each app and selecting the one that works best for you.
AI Reader has a lot of capabilities. However, it does not support PDF. If you work with PDFs frequently, you should consider moving differently. Narrator's Voice is a fantastic tool for podcasters, but there is a catch. It is preferable to investigate various choices before making a decision. It's also enjoyable.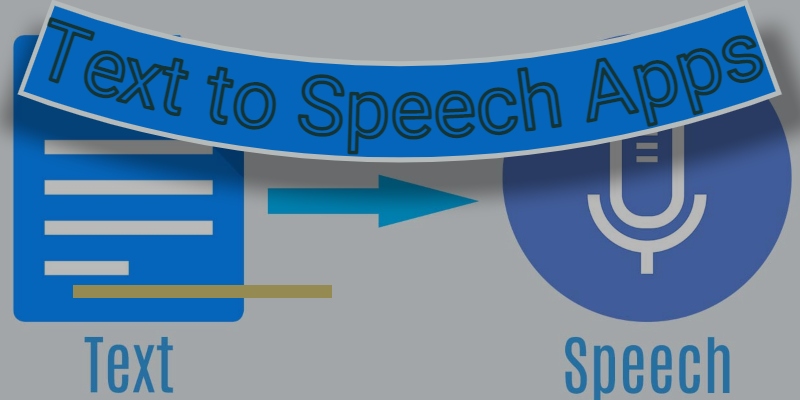 Voice Dreams Reader
Voice Dream's Reader is a feature-rich text to speech app for iPhone with a wide range of customization options. Seriously, Jabba the Hutt could potentially have this item read to him in Huttese without difficulty.
Okay, Huttese isn't one of the supported languages, but nearly everything else is. The text-to-voice reader from Voice Dream comes with 200+ voices and 30 languages, with 61 of the voices included for free and the rest available as in-app purchases.
With Voice Dream, you can interpret PDFs, plain text, websites, Microsoft Word and PowerPoint files, and even ideograms. Documents could be uploaded from a variety of sources, including several prominent cloud-sharing systems as well as local files.
You have total power over how your content is converted to speech using Voice Dream Reader. The software allows users to modify playback rates and pause intervals between phrases, which is ideal for those of us who want to grab a cup of coffee before moving on to the next page.
Labsii's Speech Central
Labsii's Speech Central is more than just voice narrative software. It allows you to use a Bluetooth headset to browse the web, listen to headlines, and access your favourite content. The app was built with visually challenged users in mind.
Compatibility for DAISY audiobooks, dyslexia-friendly typefaces, and keyboard equivalents for most tasks are among its features. With your iPhone and a headset, you can use Speech Central. This is the best text to speech app for iPhone since users can import publications, make MP3 files, and expand their depth of knowledge.
It's a terrific resource for everyday personal applications, self-development, and reducing screen usage or increasing productivity. Speech Central is available for iOS, Google Play, Windows 10, and your MacBook. The text-to-speech program is free, but there are limits on the number of publications you may add. When you purchase the pro version, the restrictions are lifted.
Narrator's voice
The Narrator's Voice is a unique experience. It can accept input from apps, the web, emails, and other sources, among other things.
However, there is a lighter side to the app. You can use sound effects like echo, reverb, gargle, and choir to enhance voice synthesis.
It has a large number of voices to select from. Certain of the company's creations, such as "Steven" and "Pink Sheep," are included, as are some tech favorites like Cortana and Siri.
It's a terrific way to add a soundtrack to video monologues, slideshow lectures, and more with the app. You can also save your analogue output file as an MP3 and distribute it with your pals.
Talk free
Are you looking for a text-to-speech tool with a straightforward and user-friendly interface? The best option for you is Talk Free. This programme allows you to read text aloud from third-party apps as well as import text from the web pages you're on.
By tapping the "Aa" button at the top of the home screen, you can change the font size in the app. You can also write the text you wish to read out loud into the app's UI. The text you type in Talk Free is kept and will appear when you start the programme again.
When the web page was shared with the app during testing, the app began reading other content on the page instead of the article, and the same issue happened when the app was allowed to view the web page directly.
After reading everything else, the app appeared on the main news. All users are warned that if they want this app to read a web page, they should copy and paste the text into the app right away.
Murf AI
Murf AI is an online DIY text to speech voice generator that employs artificial intelligence to transform text into speech, but it's much more than that. It's one of the rare and best text-to-speech tools that can handle both text and audio input and produce professional voiceovers for your movies, podcasts, and presentations.
Murf can be used by anyone who has no prior knowledge of how AI voice generation works. You can create voice-over films or audio presentations using the multi-media editor. It contains a grammatical helper that can not only edit and improve scripts, but also modify pitch, emphasis, and punctuation to better convey your intended message. Simply upload your text and leave the rest to Murf.
Murf Studio's AI Voice Changer is another notable feature. Any voice recordings can be converted into professional AI voices, and speech parameters can be tweaked to add a personal touch. The library has more than 120 voices in 15 languages with industry-specific voiceovers for business, marketing, and journalism. You may also add photographs, movies, and music to your projects to make them more creative.
Murf Studio is available for $13/month. You can use their free basic plan to try it out for free. This is a great text-to-speech programme for both professional and personal use.
Text help
TextHelp supports reading and writing on all platforms, including Windows, iOS, Android, Chrome, and others. For increased efficiency, TextHelp worked with Google for Education2 and Microsoft gold application development3.
It's fantastic software for those with learning impairments and special needs. A pictorial dictionary, highlighting, word suggestions, and a vocabulary list are among the features available. Visually impaired users can scan photographs and upload documents to hear them. It also has a screen masking feature for reducing visual stress and screen glare.
Teachers can also use the app for free, but they can only listen to online pages and papers. Over 80 features are unlocked when you upgrade to Premium. TextHelp has a variety of subscription plans for schools and businesses. The membership rates for students are substantially cheaper, making them an excellent choice for students.
Captivoice
CaptiVoice is a fantastic project that uses text-to-speech technology in education. It's a great way to listen to your class reading materials and any other books you choose to read. Designed for students and teachers who want to customise their learning and work processes while also overcoming language hurdles.
CaptiVoice can read ebooks and web pages and is available both online and offline. Capti Voice is used by several schools, institutions, and professionals all around the world. Cloud storage, popular LMS, and content sources can all be integrated.
CaptiVoice offers a free version with a variety of capabilities for personal usage. With the Pro version, you get the high-end voice sample and features. This text-to-speech app is available on Android via a Chrome extension on the web in other browsers.
Audiobooks
Vulcan Labs' Audio Books is an easy to use and responsive text to speech app. It provides a comprehensive array of text-to-speech choices. You may import text from practically any place and have it read out to you by cutting edge AI that sounds more lifelike than the voices available in the other applications on this list.
While the number of voices available in the free edition is limited, they are extremely lifelike, making text listening more natural. If you want to go through a block of text as rapidly as possible, you can adjust the playback speed by making the voice faster.
Texts may be organised into folders for convenient access, and the app will highlight the spoken word so you can follow along. Because of the high quality of the voices available, this software is worth considering for your text-to-speech needs.
How do you use text to speech on kindle app
1. Open the Settings app on your iPad and select "Accessibility."
2. Select "Speech Content."
3. Tap "Speak Screen" on the Spoken Content page.
4. Open the Kindle app and navigate to the page you wish to read now that Speak Screen is enabled.
5. Swipe down from the top of the screen with two fingers.
6. The Speak Screen control will display, and the Kindle page will begin to voice.
The Speak Screen controls will minimise after a moment, but you may alter the settings at any time by tapping the minimised Speak Screen arrow. If you need to move the arrow, you can drag it across the screen.
The Speak Screen controls can be used to advance to the next page or rewind to the previous page. If the rate at which the Kindle reads isn't to your liking, you can modify the reading speed from half-speed to double-speed. When the Speak Screen on the current page is finished, the Kindle app will automatically transition to the next page, eliminating the need to manually change pages.
Conclusion
Speech synthesis is employed by text-to-speech apps. It entails compiling a collection of recorded sounds to generate voices that sound identical to people's speech. TTS programs may commonly convert text-to-speech into some other language, in addition to synthesising accents and reading books or papers.