The national vehicle registry portal launched by Union Government called Vahan or Vahan Parivahan Sewa is launched by the MINISTRY OF ROAD TRANSPORT & HIGHWAYS, Government of India. Over 1300 Road Transport Offices (RTOs) across the country have computerized thanks to the Ministry of Road Transport & Highways (MoRTH).
RTOs give required Registration Certificates (R.C.) and Driving Licenses (D.L.) that are valid across the country, subject to certain conditions and approvals. Because state regulations and manual/system-based procedures differ so widely across the country, it was vital to establish uniform standards for these papers on a pan-India basis to assure interoperability, accuracy, and timely information availability.
Vahan Parivahan
A SCOSTA group formed for this purpose recommended standardized software that would be used across the country. VAHAN as per the name is a highly adaptable and comprehensive system that handles all of the time-consuming aspects of vehicle registration, freeing up the Transport Department to focus on other pressing matters. Vehicle Registration, Fitness, Taxes, Permits, and Enforcement processes at RTO/DTO/MLO/SDM may now digitize thanks to the software.
Both the Central Motor Vehicle Regulation (CMVR) and state-specific Motor Vehicle Regulations control the State Transportation Department (State MVR). As a result, Vahan was conceived as a product that would incorporate the CMVR's (Central Motor Vehicle Regulations) as well as state MVR's features.
Parivahan Sewa Application
The services offered by the Vahan portal include; Vehicle Registration-New Vehicle Registration, Renewal of Registration, Transfer of Ownership, Change of Address, etc. Permit- Issue of National & Interstate Permit, Renewal of Permit. Taxes- State-wise tax calculation & Payment. Fitness – Issue of Fitness Certificate, Renewal of Fitness Certificate. Enforcement- Issue of Challan, Settlement of Penalty Amount.
The vision of Vahan-Parivahan Seva is to improve the quality of service delivery to the citizen and the quality of work environment of the RTOs and the mission of Vahan-Parivahan Seva is to automate all Vehicle Registration and Driving License related activities in transport authorities of the country with the introduction of smart card technology to handle issues like interstate transport vehicle movement and to create state and national level registers of vehicles/DL information.
There are options for login such as Vahan login, sarathi login, dealer login, and Vahan backlog login.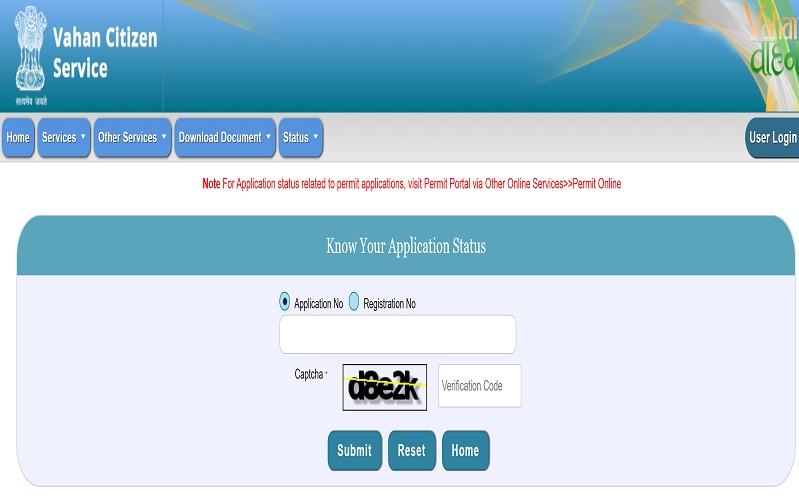 How to check Vahan 4 Application RC status?
To check Vahan 4 Application RC status, follow the given steps;
First you have to go to the official web portal of vahan-parivahan sewa.
Now from the homepage choose the option online services and then click on vehicle related service
Now from the page that you directed to select your state
Then you re directed to vahan citizen service page, then you have to choose your State/RTO where your vehicle is registered
Now click on proceed option
Then from the re directed page, click on status and then choose know your application status
Enter your application number/ registration number according to your convenience
After entering the verification code successfully, click on submit option
Now you can check your Vahan 4 Application RC status
Vahan Parivahan online payment
For Vahan Parivahan online payment, follow the given steps;
Click on the link to Vahan Parivahan online payment portal
Then you can choose to either Fresh/Re-Verify Pending Payment or Check Previous Failed Payment(Amount debited and bank sent the fail status)
After that enter your Application No / User ID, password and verification code
Then click on login online payment
Objectives of Vahan-Parivahan sewa
To provide:
Better services to Transport Department as well as citizen
Quick implementation of government policies from time to time
Improved image of Government & Department
Instant access of Vehicle/DL information to other government departments
Vahan Parivahan Contact Details
Vahan-Parivahan, Ministry of Road transports and highways, Government of India. Vehicle registration, fitness, Tax, Permit, Fancy, Dealer, etc.
You can contact the numbers from 06.00 AM- 10.00 PM (Working days). For more information check Timesalert.