Airtel V Fiber Broadband Plans Offers
In India, on October 13, 2016, Bharti Airtel redistribute it's all new 'V-Fiber' technology to provide superfast broadband speeds to its established customers. The 'V-Fiber' technology will have the fastest broadband speed along with the most effective data transfer service via existing infrastructure. In the year 2016, we have seen many changes in terms of data services provides by all leading telecommunication ventures in India. It has been heard that Reliance JIO will be coming with its JIO GigaFiber Broadband. This news tends to shake the market in INDIA. Therefore, Bharti Airtel has been focusing on improving its broadband infrastructure.
Airtel V Fiber Broadband Plans Offers For New Users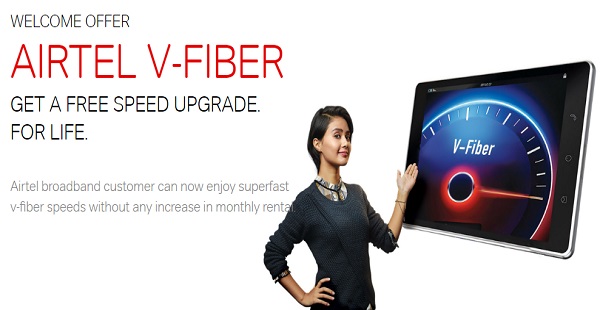 The company has also released its  various free data offers like 5GB per month in the myHome plan If a home user of Airtel broadband having two Airtel postpaid mobiles and one Airtel digital TV connection, then they can get 15 GB free additional data. Bharti Airtel has also added a blending one-time 50 minutes of free calls services centrally located in the range. It has recently announced two apps from the Airtel stable, Airtel Cloud and Airtel Dialer. Airtel Cloud. It provides users with a 2GB of free cloud storage and backup
Airtel V Fiber Broadband Plans Offers For Existing Users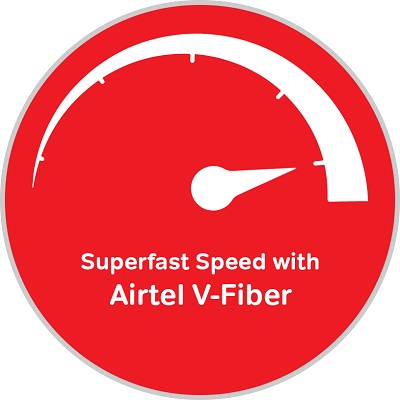 The important thing to note here established customers can now get the full advantage of super fast v fiber speed with no extra monthly charges. Theoretically, it's possible to achieve 100 Mbps speed by Airtel's 'V-Fiber" technology New users will get unlimited three months trial free internet offer with unlimited local and STD calls to any network.
Airtel V Fiber Broadband Plans Offers For Airtel Users (Chennai)
| | | | |
| --- | --- | --- | --- |
| Monthly Plans | FUP (GB) | Speed (Up To) | Unlimited Call (Local & STD) |
| Rs.999 | 50 GB | 40 Mbps | No |
| Rs.1099 | 75 GB | 40 Mbps | Yes |
| Rs.1299 | 100 GB | 40 Mbps | Yes |
| Rs.1499 | 120 GB | 40 Mbps | Yes |
| Rs.1999 | 200 GB | 40 Mbps | Yes |
Airtel Offers Free Calls Cloud Backup MyAirtel App
In simple terms, through Airtel V fiber Broadband Plans Offer will have a new modification and advancement 'V-Fiber' is wholly based on Vectorization which is Europe's top most fixed broadband technology. And motto is to enable users to access high speeds of up to 100 Mbps on Airtel fixed broadband. It is aiming to establish the network in almost 87 cities. Airtel is the first operator in India to despatching Vectorization. Currently, the offer is official in live at Chennai starting from the day of its launch. It will also make its entry across all the Airtel national broadband network in future days.
Airtel V Fiber Plans Offers For Airtel Users (Chennai)
Rs.2299 plan: 275 GB.
Rs.2399 Plan: 300 GB.
Rs.2449 Plan: 350 GB.
Rs.2499 Plan: 375 GB.
Rs.2849 Plan: 450 GB.
Rs.2999 Plan: 500 GB.
Rs.3499 Plan: 600 GB.
Rs.3649 Plan: 650 GB.
Rs.3999 Plan: 750 GB.
Rs.4499 Plan: 875 GB.
Rs.4999 Plan: 1000 GB.
How To Get Airtel V fiber Broadband Offer Connection For Existing Broadband Users :
Existing  customers having Airtel broadband connection have to change modem. Users can improve or make better by upgrading to 'V-Fiber' speeds with their current plan and  get the delight or comfort of  superfast data speeds at no extra monthly cost. Existing and new customers can register themselves through a www.airtel.in/vfiber. Surprising and a happy news is that users will not have to go for  new wiring, drilling etc. All the have to do is to upgrade to a new modem to experience 'V-Fiber' speeds.
Click Here to Upgrade Airtel V Fiber Broadband Connection
How to get Airtel V Fiber Broadband Offer Connection For New Users
Just in case if new customers are not satisfied with the services then a company is providing an exchange offer. According to the offer in a one month, Airtel will refund the modem charges and the amount will be added to the next bill.
New users will get a benefit of the unlimited three-month trial free internet. To optimize this facility users have to  pay Rs.1000 as a one-time fee on the modem. Offers of unlimited voice calling to any network throughout India will attract new customers.
Click Here to Book Now For Airtel V fiber Broadband Connection
Airtel V fiber Advantages 
Streaming television shows, movies, slideshows, and music will become easy and fast. With Airtel V fiber Broadband Plans Offers one can stream media without any delay. The days of reloading videos or movies in the middle of watching will no longer exist.With high-speed Internet, pages will load at a faster in comparison to average speed. In the fraction of seconds, users can download a whole movie, video, and photos.
Airtel V Fiber Broadband Plans Available Cities
At present  Airtel V fiber offer service is available at  only Chennai. Bharti Airtel will soonly spread its broadband services Delhi and NCR, and Bengaluru. The initiative  has been taken to cross  Airtel V fiber Broadband Plans Offers to 87 cities in coming weeks