Coding Apps: Nowadays computer coding is becoming very important in education of children's. Computer meets the every aspects of kids lives. But they don't know how they will work. By using coding kids can build their essential literacy skills, learn the mechanics of iteration and they gain the knowledge of understanding logic and sequence. But all these coding tools support the kids to create their own unique designs like project-based learning, hack, collaborate, remix and many more. With the help of this basic knowledge of programming and logic of codes, they get the capability to create a new things among computers.
 Best Coding Apps For Kids
In recent days many of coding application are introduced in the market for kids. Some of the coding apps mainly focus on to teach the logic of coding which is highly helpful for the kids to built their logical skills. And not only with coding apps through puzzles, free play and riddles kids can learn soft kills, problem-solving and many more. Now we are providing some of the content about coding apps which is mainly used for kids to learn programming.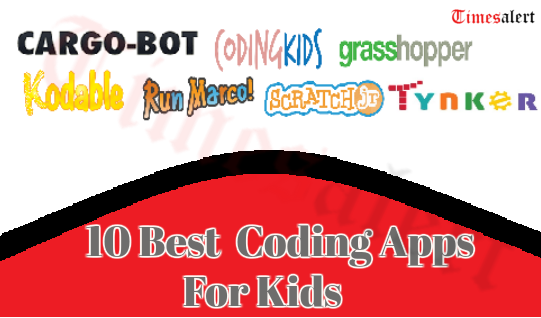 There are many coding apps that are introduced for the kids in the market. In that parents need to select the best and very useful application to increase their children knowledge on coding. Now we are listing 10 Best coding Apps 2023 for kids here.
Kodable
Tynker
Run Marco
M1M0
Coding for kids
Grasshopper
Scratch Jr
SpriteBox
Cargo Bot
SoloLearn
Top Best Coding Apps For Android
Tynker
With the help of Tynker application children's can easily learn the coding. This application teaches the concepts like process of building games and doing puzzles etc. You can use this application in offline too. Students can do their projects using this tynker app and it had designed with themed graphics, animated characters and games kits. So, they included the 50+ free tutorials in the application like games, apps, physics, music and more.
Run Marco
Most of the coding applications are designed with puzzle-based games but not the Run Marco. This application is an adventure game with the use of this app students can move through the course. This app is available in 26 languages and it is also recommended by the official hour of code generation. Based on story, it is very fun to play. It designed for 6-12 years kids by make them as experts in engineering, arts and education.
Coding Apps for Preschoolers
M1M0
An interesting application for the kids to learn courses. It offers real-life solution and a perfect application to learn and to build an app. So, there are different courses available in the application and you can choose one of them. Based on your course selection a large number of chapters are available in the course. For example,. students gets the basic information like functions, classes and structures etc. But after completing the course they get the personalized certification for the students. With the help of this kids can become hacker, build the app and more.
Coding for Kids
This application teaches the coding with the help of interactive programming fundamentals. It is only designed for kids to learn simple sequences, functions, loops, arrays, debugging and more. So, in this application everything is designed with 2D animation. By using this they can learn valaubale skills from the application. For the primary school children's this application is very suitable to learn coding.
Best Coding Apps To Learn Programming
Grasshopper
Another best application to learn coding for kids is Grasshopper. With the help of mini-games they can teach the programming languages. While opening the application it ask you if its your first time coding or if you have coded before. Before learning the course you need to select one option. If you click on first time them it will guide you the code through the slides explanation. So, children's can play the quiz once the course is completed. This application explain the concepts like arrays, loops, operators, functions and more.
Kodable
This application is a free and web-based application on iOS devices. Very useful for the children to learn coding. So, kodable is an award-winning application for the kids whose age is of of 4-10. This application is trusted by 70% of the US Elementary schools. It teaches everything about the computer sciences, where kids need to know. It also includes the concepts like sequence or order of operation, conditional logic statements, syntax and many more. Parents can here check for the Top Best Kids Apps For education and many more here.
 Coding Apps For Kids For Android IOS
Cargo Bot
The cargo Bot application is a crane based game. The main objective of this game is to arrange the colored boxes on the pedestal. Using the moves you can arrange the colors such as up, down, left, right, pick up, drop etc. With the help of this application your children can improve problem-solving skills, puzzle solving and more. This application implements the fundamentals of the most interesting concepts. Overall this application is a very interesting and challenging game for kids.
SpriteBox
This Application is an adventure game application where you can solve the hurdles. After solving the problems you can collect the coins while looking for the out. If you are searching for the application to learn to the program for your children, then the application is very helpful. So, your kids can learn concepts like sequencing looping and more. In my opinion, this application is very good for your kids to learn programming.
Most Used Coding Applications For Beginners
SoloLearn
Many of the program learning applications are available in the internet. This application is free of cost and you can learn any course. It includes courses like c, c++, javascript, css, HTML and many more. So, you can select the course from the options to start the programming. This application starts the course from the basic level to the advanced level. While learning the course you can build an amazing project. It is a free app and you can learn all the programming courses for free.
Scratch Jr
Kids can learn the program by using animated cartoons. MIT is the developer of Scratch Jr. This is a gaming application for kids to teach the programming fundamentals. In the first page you can see two sections they are home page and help section. But help section gives the information about how this app works. The home page includes with all the stores of the projects. Here their is an option to share your projects to others.
Conclusion
In this article, we provided information about the best coding application 2023 for children. So, coding application can easily improve your kid's problem solving, communication skills and many more. Above mentioned applications are very useful to learn the programming concepts. To know more information about other Tech applications can be checked on Timesalert.