In India, violation of road traffic rules leads to the payment of Challan. A challan is an official document, a way of crediting money to another bank account by the way of a form – in return for a receipt for the payment. Nowadays a convenient form of challan in use is called E – Challan. So let us know some details about Delhi Traffic Police Challan below.
Delhi Traffic Police Challan
Delhi is one of the busiest and populous cities in India. Lakhs of People commute to and fro every day. In such cases people violate traffic laws and breaking rules is very common.
Now with the installation of CCTV cameras, the police can keep a video record of violators. Therefore knowing which rules to follow is pertinent for the residents to avoid breaking them. We give you the traffic rules according to the New Motor Vehicles Act you should follow in Delhi and the fines for breaking them.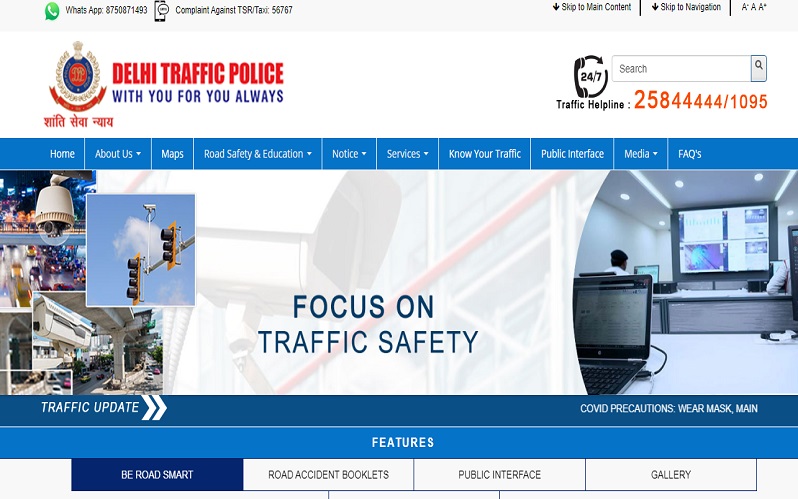 Delhi Traffic Police E-Challan @ Delhi traffic police.nic.in
Driving without a seat belt
The penalty amount is Rs 1,000 and your license can also be suspended for 3 months.
Violations of Road Regulations
Fine of Rs 500-1,000
Rs 1,000-2,000 for light vehicles
Rs 2,000-4,000 for medium commercial vehicles
Seizure of the vehicle for the next offense
Driving without a license
Rs 5,000 as a fine
Rs 1,000 as a fine and license can get disqualified for 3 months
First offense – Rs 5,000 fine or up to 6 months to 1 year in jail
A second offense and thereafter – Rs 10,000 fine or up to 2 years in jail
Rs 10,000 fine and/or 6 months' imprisonment on the first offense
Rs 15,000 fine and/or 2 years in jail
Rs 5,000 fine and/or up-to 1 year in jail
Using a mobile phone while driving
Rs 5,000 as fine and/or up-to 1 year in jail
Driving uninsured vehicles
Rs 2,000 as fine and/or 3 months in jail for the first offense
Rs 4,000 as fine and/or 3 months in jail for any subsequent offenses
Delhi Traffic Police Online Challan payment
In the event of Delhi residents breaking any traffic rules, the Delhi police have introduced the online challan payment gateway. This smart traffic fine payment system is for the convenience of the people. It allows them to pay for their challan fines online and also check the statuses of their challans. For more updates check Timesalert.
Challan that has to be paid online is referred to as e-challan. To pay the challan online you can follow the following steps and easily make your payment:
Visit the official website for e-challans in Delhi, delhitrafficpolice.nic.in.
On the notice tab, click on the pending notices section.
You can search for your challan by entering the details of your vehicle in the search bar of the pending notices.
After entering the details and clicking on entering, you will be redirected to your challan.
Go through the details of your challan and click on "Pay Now" if you are ready to pay it.
On the payment gateway dropdown menu, you are fine amount will be displayed.
In Delhi, the payments done only by SBI ePay gateway.
After accepting the terms and conditions; choose your payment method- debit, credit, or net banking.
Enter your payment details and click on Pay Now
After the transaction completed, you will be sent a message saying so, along with a Transaction ID.
Save the Transaction ID for any future reference.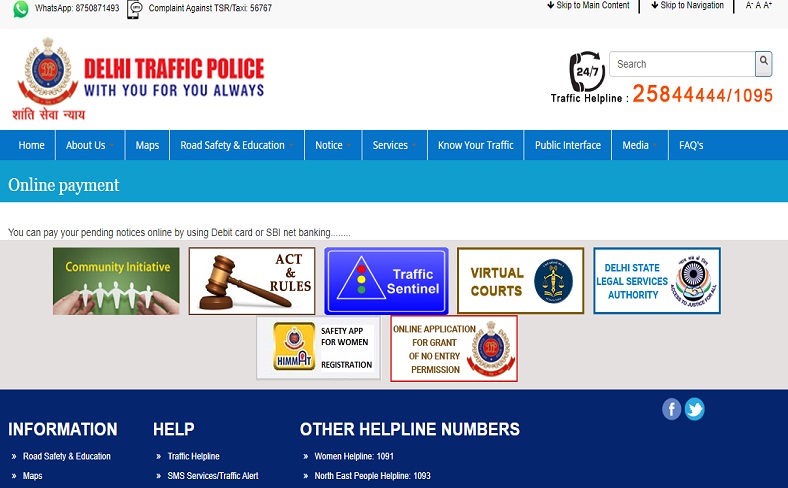 Check Delhi Traffic E-Challan Status
If you want to check the status of your challan online, then a few simple steps followed to do so:
Visit the Delhi Traffic Police Website, Delhi traffic police.nic.in.
To check the status of your e-challan, click on the "check challan status" option on the right-hand corner.
Click on the status, and enter the details of your vehicle.
On clicking enter, you redirected to a page displaying your challan status.
Also do check here for AP Traffic Police Challan
Here are the complete details about how to pay Delhi Traffic Police Challan to pay online. Also, know how to Check E-challan status @ delhitrafficpolice.nic.in