Facebook Rolls Out Online Safety Advice, Anti-Bullying Hub
Social media giant Facebook bring out its Safety Center and Bullying Prevention Hub to make platform safe and user-friendly. Facebook lets people to share beautiful moments in life in turn people require safety of their content. Therefore facebook experts and  Safety Advisory Board  design a controlling tool to assist users in staying safe and managing their accounts. This Advisory Board makes several recommendations for the safekeeping. New safety advice occurs because of a high-profile hacking case on other online across the Internet. A new Safety Center and expanded Bullying Prevention Hub is intended for Users to collect or maintain information. This new  updated feature enables users to check back often to ensure guidelines of the terms of Facebook Privacy Policy.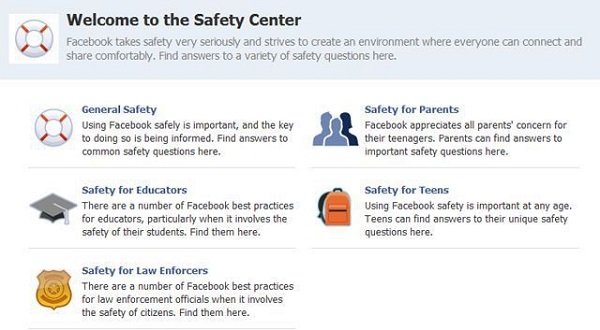 Facebook Anti Bullying Prevention Hub Safety Center
Facebook's makeover Safety Center will address user to outline and indicate unhealthy and abusive posts. It will issue some measures to guide the user to not only distinguish but to sense the unhealthy followers. It will them to identify the person who is seeing what they post, and will also suggest them to a method to keep it safe. The point to note to bookmark is to improve your account security and operate privacy checkups. A few days back users appreciate Instagram for its new support tools, which provide a facility to recognise and report the unjustified post of a friend. Facebook, a parenting company of Instagram has excelled in all the corners to maintain the trust of the users there this new advancement will help them to furnish new step of progress is launching something similarly important: a new Safety Center and expanded Bullying Prevention Hub.The Bullying Prevention Hub, of facebook, is not merely confined to report the unjustified post but will also guide users to take preventive measure to solve the problem completely.
Messenger Day : Facebook Testing Snapchat Feature 
Facebook has released a list of the top five tips for the users. Check out the tips shared below to be safe from the online bullying.
Tip 1: Lock down your login
Login approvals is  an auxiliary security tramp access your Facebook account. While turning on to login approvals it will command user to enter a special security code every time you try to access your Facebook account from a public computer, other mobile phone or browser. To turn on login approvals Visit your Security Settings Click on the Login Approvals tool verify the box and click Save Changes After you turn on login approvals:
Tip 2: Let Facebook know when you see something that shouldn't be on the platform
If you see something inappropriate or uncensored on Facebook, you can immediately inform by clicking the report link. Facebook will edify to not reveal the identity of the person who filled a complaint against such person who posts unethical matter.
Tip 3: Understand who you are sharing with
While the time of updating your status, sharing photos or post on Facebook, we have liability to choose our audience who can see our post. By using the Audience Selector tool, facebook account holders can choose preferential audience or viewers. Not only this but users can make necessary alteration in the audience for a post after sharing it. For altering audience for posted matter tap on the top on the right of the post to edit its privacy setting and select fresh audience. Note whenever you post something on the other person wall concerned person has the power to controls the views of the post. Same goes with anyone who gets tagged in a post can see along with their friends.
Tip 4: Check who can tag you in posts
Talking about tagging, you can check the content for which you are tagged in on Facebook. Tag review gives an access to withdraw or stay in tags that your friends may add to your posts.
Tip 5: Go for a checkup
The anti-bullying hub will be commercially dependable, a technical tool to safeguard unauthorised use, Biggest advantage is that this bullying prevention hub will have all the details to advice to teens, parents, and educators in the frame and dispatch the news of bullying no matter if it is online or offline.