The advent of the internet and with that, Google has truly changed the way we live and perceive the world. Information about every little thing imaginable in the world is at our fingertips. Google keeps on reinventing itself constantly adding new features, extensions, and systems. That keeps on transforming our lives and thus making our navigation through the world a little easier and safer each day.
Google builds an earthquake detection system
When did we ever imagine that our smartphones collectively could detect an earthquake? Due to a collaboration attempt between Google, the United States Geological Survey (USGS), and the California Governor's Office of Emergency Services (Cal OES). This concept tested as a cost-effective alternative to give earthquake detection a public infrastructure, which also economical. So that earthquake detection possible and the public of that area gets alerted.
According to the National Earthquake Information Centre every year the world hit by an average of 20000 earthquakes. Most of them are so minimal that their tremors are not even felt. However quite a few of them also result in heavy losses of people and property. The total number of active Android phones in the world last year was more than 2.5 billion; only android phones can work for this detection system and so Google wants every available smartphone in the world to do help build the world's largest earthquake detection network system.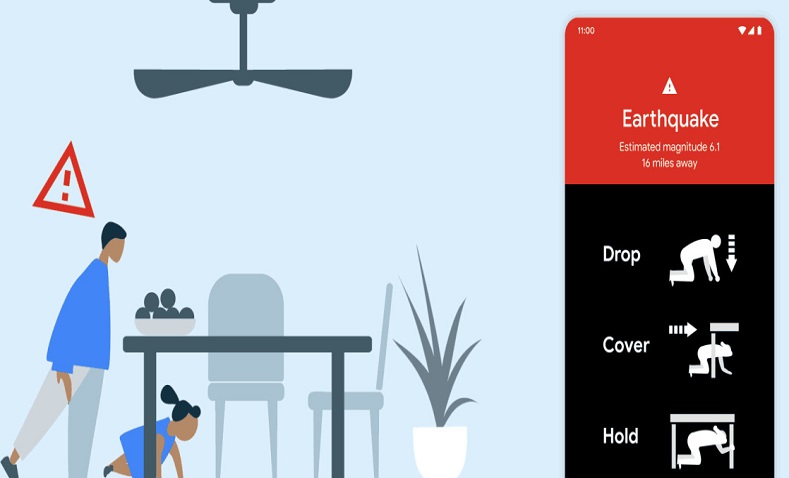 How would it all work?
A seismograph or a seismometer an instrument used to detect and record earthquakes. It works by responding to ground motions. All android smartphones come with tiny accelerometers, which is also how Google Maps can detect the speed at which you are driving a vehicle.
The same sensors in an accelerometer used to detect earthquakes. Each of those used as mini seismometers. Smartphones have achieved something universal. They found in every small little part of the world. A feat achieved by actual earthquake detection instruments.
If this system gets implemented, then our phones detect an earthquake. And send a signal back to Google's earthquake detection server. With the help of our phone's GPS, Google knows our location during that point of time since location is an important aspect of this entire exercise. They can compare that information with the signals sent by other phones in those areas and deduce whether there is an earthquake or not. For more other internet updates check Timesalert.
How will Google help after procuring all the data?
For starters, Google uses all the amassed data to show accurate results on Google searches. If anyone searches for the terms, "earthquake" or "earthquake near me". Google helpfully able to deduce whether there are any reporting of large scale tremors.
If that is the case then it also provides details of emergency contacts that can be called in case the situation is severe. Also an essential technique for survival. In California, it sends out alerts to users through the Shake Alert system if it receives a signal from more than 700 "seismometers".
Conclusion
There are two kinds of earthquake waves, P wave – which is faster, and S wave – which is slower, thankfully android phones can detect both these kinds of waves, and then algorithms can work out if there is an actual seismic event.
Once Google perfects its alerting system, it plans to roll out APIs and move to more countries, with the Android-based earthquake detection system.