A private limited company or PLC is a corporate entity for small businesses. Hence after getting registered under the Companies Act, 2013, those small business entities are incorporated, and a tag of Private Limited Company Registration awarded to these bodies. These corporations privately held. In a Private Limited Corporation, the liabilities of the owner are limited to his shares. The maximum number of shareholders in a PLC is limited to 200.
Private Limited Company Registration
One who meets the eligibility rules to incorporate your business as a Private Limited Corporation under Company Law: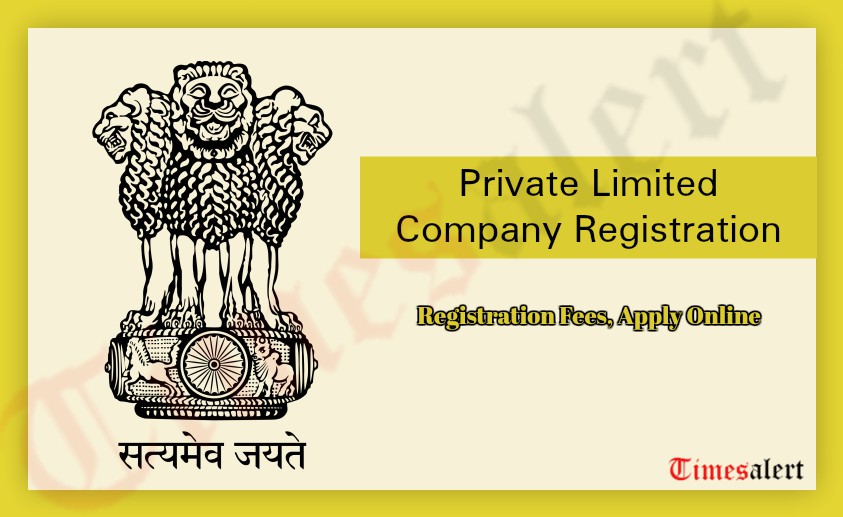 Eligibility
At least two people in the corporation are mandatory. One of them will be the Director and the other the shareholder.
A shareholder can be a person in the eyes of the law. However, a Director has to be either a citizen or resident of India. Anyone who resides in India for 186 days in India
A foreign entity can also register itself under this as a foreign national.
Private Limited Registration Documents Needed
For registration under Company law, documents required for Pvt ltd company are:
If you are an Indian citizen,
Proof of Official Address
Recently Issued utility bills
NOC (No Objection Certificate) to be issued by the owner of the company to get Pvt ltd company registration.
Proof of Residential Address
Approval
Trademark registration certificate
An affidavit by subscribers of the company
If you are a foreign person:
Address proof
Passport of either subscriber of the company or the Director
How To Get Private Limited Registration Online
Follow these steps to incorporate your company successfully:
When you are registering for new company registration, you have to upload a Digital Sign Certificate (DSC). It obtained by any Government recognized issuing authority. This DSC shall belong to Class 2 or Class 3. However, if the applicant is verified beforehand, he doesn't need to obtain a new DSC. Such a person comes under Class 2 category. However, if you are not verified earlier, you have to come to a registering authority, and you come under the Class 3 category.
If you are looking to be the Director of the company, you must have a DIN( Director Identification Number).

If you have an existing company, you should fill a DIN 3 form and obtain the DIN. You must have access to the Aadhar card for this process.
If you want to incorporate a new business, you need to fill a SPICe (INC 32). The issuance of DIN in this process is limited to 3.
Pvt Ltd Registration Details
Now, you have to select the name of your company. Following points must be kept in mind while you are thinking of the Pvt Ltd company registration name availability

The name chosen shall not represent any other entity or shall not be the same as any other entity's name.
The name shall end with "Limited" if the liability of shareholders of the company limited. Also, if it is a private company, then to the name shall end with "Limited".
Your company's name must not be against the suggestion of the Central Government. Also, know about West Bengal Property Registration, and Trademark Registration here.

Get the name approved by following any of these methods:

RUN( Reserve Unique Name): An online portal operated by the Ministry of Corporate Affairs. It helps people with the registration process. Earlier the portal allowed for one name to apply, and if rejected, the company couldn't apply for another chance. But now it allows two names one the first chance and second for resubmission. You must have an account on MCA Portal to access this.
SPICe(INC 32): Filling this form is more convenient. By applying through this form, the applicant can fill-up the form more than two times upon rejection that too without extra fees.
Private Limited Company Form
Fill up SPICe or INC32. This form launched by the Ministry of Corporate Affairs for helping the incorporation of the private limited company registration process in India through online.
Fill up e-MoA(INC 33) form, and here MoA is short for Memorandum of Association. It contains information about the company's charter. You must also fill an e-AoA(INC-34), here AoA is short for Articles of Association which includes rules for the company. Both of them need to sign electronically.
Apply for PAN TAN by filling the SPICe form. By using this form, you can make an application for PAN by filling form 49A and by filling form 49B you can apply for TAN.
About SPICe Form on Ministry of Corporate Affairs
SPICe form or INC32, a form launched by the Ministry of Corporate Affairs.  Using this form, candidates can apply for registering their company under Company law. Apart from registration, they can also apply for PAN and TAN. They can also obtain a DIN using the same platform and find and register a name for their company.
Private Limited Company Registration Fees
The Pvt ltd company registration fees for incorporating a company under the Company Act have waived off by the Government. However, earlier it used to charge based on yearly turnover.
Conclusion
Ministry of Corporate Affairs has launched a SPICe form on its website. This firm has launched for registering small businesses as A PLC or a private limited company. For more other details, check Timesalert.