Durgam Cheruvu is a freshwater lake present in Rangareddy district, Telangana. The lake also is known with two names called "Raidurgam Cheruvu" or "Secret Lake". The lake is present in between the areas of Jubilee Hills and Madhapur, so it also named as the secret lake. Durgam Cheruvu is one of the sightseeing places in Hyderabad. The site has scenic beauty, which attracts the people towards it. There are lots of sightseeing places available in Hyderabad, but this Durgam lake is a beautiful and peaceful place from other places. You must once visit this place to enjoy its scenery. Through this article, you can get lots of information about this place.
Durgam Cheruvu Hyderabad
Every year lakhs of tourists are coming to the Hyderabad to visit all famous and beautiful places in town. There are lots and lots of places, temples, parks, museums, etc. Some places have built before many years, and some constructed in recent years. So, here we are talking about a place called "Durgam Cheruvu", which is present in Hyderabad.
This place is also a beautiful place for both Hyderabad people and visitors. The local people go there for spending some time with nature. The environment around this place is so amazing and breathtaking. For the residents of Golconda, this lake served as the drinking water source, made during the rule of the Qutub Shahi dynasty. The lake has spread across 63 acres in between Jubilee Hills and Madhapur.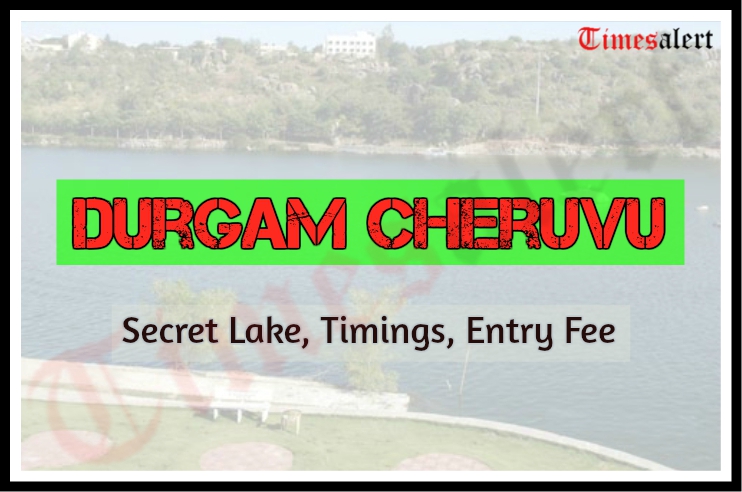 Secret Lake Hyderabad
The state government of Telangana has decided to renovate this place and make this place more beautiful. So, after the renovation, this place will be turned into a hangout place for the local people and tourists. Durgam Cheruvu is nothing but an artificial waterfall and floating fountain, which attracts most of the people and more visitors come here to feel the beauty of this environment.
For film shooting, this Durgam lake lace is a familiar venue. The Secret Lake is surrounding by granite rocks, which is a rare thing not just for India but also in all over Asia. The visitor can do lots of activities at lake area like, boating, camping, trekking, fishing, etc. People have many choices for boating in Durgam Cheruvu like the pedal boat, mechanised boat, water scooter, etc. After paying the ticket price, we can enjoy all the facilities which are available in this place.
Why is Durgam Cheruvu Called as Secret Lake?
Durgam Cheruvu had made for the resident people of Golconda. The lake is presenting natural beauty for its visitors. People also know this place as "secret lake", because the lake has hidden by the surrounding granite rocks and present in between two areas such as Jubilee Hills and Madhapur. People come here for spending some time in a relaxed environment with a calm water body. The lake is also called "Madhapur Lake". The place is promising to provide some refreshing moments to all their visitors.
Durgam Cheruvu Bridge
Due to lack of caretaking, now the Durgam Cheruvu Bridge is suitable for hangout. So, the state government took the step to clean the lake and renovate this area. After renovation people can again hangout on this place and this time the government will add some extra activities in Durgam lake.
So, that from children to senior citizen all can go to this place and spend their quality time with friends and family. People can see the nearby laces and the Hi-tech city from Durgam Cheruvu is worth watching. The Secret Lake is not famous than Hussain Sagar Lake, but for the young generation, this place is quite renowned for parties. It is always an ideal place for nature lovers.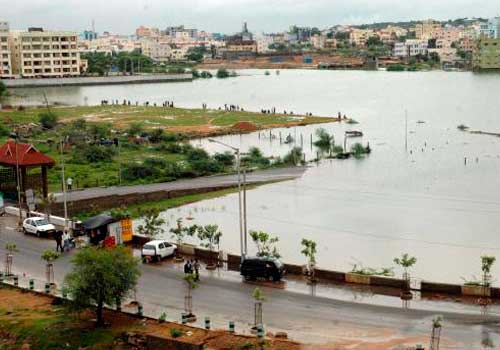 Durgam Cheruvu Lake Front Timings
This place Secret Lake is not open for 24 hours. People have to come here within its schedule timings. Here we are giving the schedule for opening and closing timings of Durgam Lake.
| | |
| --- | --- |
| Days | Secret Lake Timings |
| Monday | 10:00 A.M. TO 6:30 P.M. |
| Tuesday | 10:00 A.M. TO 6:30 P.M. |
| Wednesday | 10:00 A.M. TO 6:30 P.M. |
| Thursday | 10:00 A.M. TO 6:30 P.M. |
| Friday | 10:00 A.M. TO 6:30 P.M. |
| Saturday | 10:00 A.M. TO 6:30 P.M. |
| Sunday | 10:00 A.M. TO 6:30 P.M. |
Durgam Cheruvu Ticket Price
People don't have to buy any ticket at Durgam Cheruvu. In other words, there is no entry fee for visitors. But for the activities, you have to pay the ticket price. For all activities, price is the same.
| | |
| --- | --- |
| Entry Fee | Zero |
| For Activities | Rs.20/- |
Boating At Durgam Cheruvu Hyderabad
The visitors can enjoy the boating at Secret Lake, which is the major highlight for this trip. Boating offers a splendid view of the water and amid lush green trees. Several kinds of boats available at a lake like mechanised boats, pedal boats, water scooters, etc. Apart from this activity, another exciting ride there called "A ride on a Putty". People love this putty rides very much, after paying the ticket price worth Rs. 20/- you can enjoy this ride.
Activities At Durgam Cheruvu
Except for boating, several other exciting activities are present for the visitors. People can take their family or friends for a picnic. The place has looked more beautiful at the time of sunset. The visitors are especially coming here to see the sunset. You can play here all the other games like badminton. Recently some other activities have added like rock climbing, trekking and rappelling. People who love fishing also come here to fulfil their wishes.
How To Reach Durgam Cheruvu?
Durgam Cheruvu is present in between the town, so people will not face any problem to reach here. From Cyber tower, the place is only 2 kilometres away. By hiring a private cab, you can easily reach this place. People can also take the bus or metro to Hi-tech city bus stop. From there you have to make an auto-rickshaw for the Durgam Lake.
 FAQs about Durgam Cheruvu Hyderabad
What is the entry ticket price for Durgam Cheruvu?
There is no entry ticket for this place Durgam Cheruvu. People can enter freely, but for some activities, you have to pay the ticket cost.
What is the ticket price for Putty Ride?
The visitor has to pay Rs. 20/- for putty rides. This ride is exciting from other water rides.
What is the timing of Durgam Cheruvu?
From Monday to Saturday, Durgam Cheruvu is open from 10 A.M. to 6:30 P.M.
For more updates about popular tourist spots in Hyderabad, check Timesalert.