UP Samajwadi Party Free Smartphone Yojna
Samajwadi Smartphone Yojana launched by Uttar Pradesh CM Akhilesh Yadav is taken as shortcut road in leading to the long journey. This scheme of Samajwadi Party is one route to political success. Samajwadi Smartphone Yojana, particularly in times election, is a rapid change, in proving their strengths. CM Akhilesh Yadav has launched this scheme on Monday in Lucknow. The smartphones will be distributed to residents of Uttar Pradesh but the condition is that this scheme will come to force only when the Samajwadi Party will win the election of 2017.
Samajwadi Party Free Smartphone Yojna Registration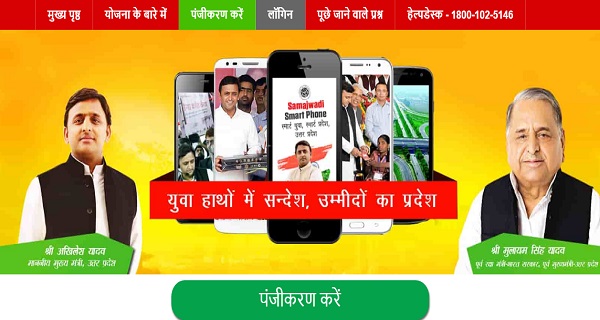 Under this scheme, residents of Uttar Pradesh can register for free 4G smartphones. The registration will begin from October 10 to November 10. Visit the official website www.samajwadisp.in for online registration. With the launch of this scheme, Uttar Pradesh Chief Minister Akhilesh Yadav asks the voters who are 18 years of age and has passed 10th/class X to register themselves. A Public Interest Litigation was filed in the Allahabad HC which raises the issue regarding the launch of the scheme. But the decision comes under the favour of the ruling party and hence the court dismissed PIL.
UP Samajwadi Party Free 4G Smartphone Yojna Eligibility
Whosoever is registering under this scheme must be 18 years or above as on January 01, 2017. Only a local resident of Uttar Pradesh can enjoy this benefit of getting free smartphones. The applicant or her/his guardian should compulsorily not be a Class 1 or Class 2 government employee and the annual income of the applicant must below Rs. 6 lakh per annum.
Applicants have to submit the scanned copy of the certificate or mark sheet of High school. All Members Of A Family of match the eligibility criteria can get Samajwadi Smartphone. The government will send the Samajwadi Smartphone after the proper verification of permanent address (in UP) only.
UP Samajwadi Party Free Smartphone Yojna Scheme Benefits
Samajwadi Smartphone will have all the official apps of the UP government to get users feedback. This smartphone scheme will help users to track their buffaloes even without the help of police. The biggest advantage is that Samajwadi Smartphone will Users to keep updates all news about agriculture, health, sports, economy etc. It will also act as a supreme source for job hunters to search relatable jobs. Users will have to bear the reparation charges in cases of loss of or any damage of Samajwadi Smartphone. For registration, applicants have to submit the valid mobile number of any member of your family. No clarification from the desk of The Uttar Pradesh government has been made in disclosing the model or company of the Samajwadi Smartphone.
UP Samajwadi Party Free Smartphone Yojna public talk
While addressing the media during the launch of the scheme, Akhilesh made cutting remarks on Prime Minister Narendra Modi. Commenting on the agenda of PM Modi 'achhe did he said that Uttar Pradesh is deprived of Modi's ache din since in last 2.5 years. Other remarks were made to question Modi 'ravan Dahan' program in Lucknow. According to Akhilesh, it was just a political strategy to win hearts of UP VOTERS.
This turmoil and diverted policy Samajwadi party was opposed by BSP chief Mayawati. According to her this just a political strategy of getting votes to win the election of 2017. This cross remarks put forward the question of what political parties are actually trying to accomplish whether to the win the notion of party or to contribute to nation's development?
How To Book UP Samajwadi Party Free Smartphone Yojna Online
Visit official website samajwadisp.in.
Click on the Register Now button.
Complete the registration Process.
After completing registration process, Click on Submit button
Your Registration id will be generated
Take print of the generated registration form for future use.