The Ramanuja statue, also known as the Statue of Equality, is a statue of the 11th-century Vaishnavite Saint Bhagavad Ramanuja, which can be found in the Chinna Jeeyar Trust in Muchintal, Hyderabad. It would be an amazing area to explore if you want to relax and meditate because there are children's playgrounds nearby. In this post, you will get to know about the statue of equality, timing and height and all the other histories about that. Also, do know more about the Golconda Fort Hyderabad Timings and location.
Statue of equality Hyderabad
What makes the Statue of Equality unique:
The monument is among the nation's biggest metallic sculptures in a seated configuration, made of 'panchaloha,' 5 different mixtures of gold, silver, copper, brass, and zinc.
It attached to the 'Bhadra Vedi,' a 54-foot-high basal construction.
Initially, around 14 versions of the statue were created, including Agama and Shilpa Shastra, sutras, from which three were chosen and a final draft was created incorporating aspects from all three models. A 3D scan was then performed. After that, a final model was chosen, and casting in China commenced.
Spiritual teacher Chinna Jeeyar Swamy, who also belongs to the Ramanujacharya Ashram, designed the statue, which cost Rs 1,000 crore.
The initiative funded by voluntary donations from businesses and enthusiasts around the world.
The statue installed over 15 months, and it casted in China.
The monument delivered to India in 1,600 pieces, and roughly 70 Aerosun Corporation employees travelled down to the project site to assist with the assembly.
The floors dedicated to a Vedic digital library and research centre, ancient Indian scriptures, a theatre, and an educational gallery featuring Sri Ramanujacharya's works.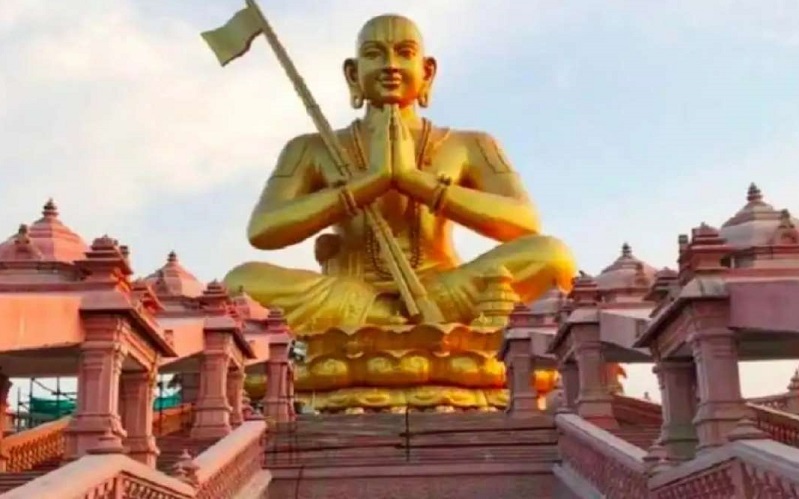 Know about the Sri Ramanujacharya statue
In Bhakti Marg, Ramanujacharya Ji assigned a composition for Sanskrit Granth and equal significance to the Tamil language.
The dynamic fountain designed to reflect a diverse spectrum of human features. The gorgeous Lotus, on top of which Ramanuja seated in honour, surrounded by eight lions, eight elephants, and eight swans.
Sri Ramanujacharya devoted his career to human alleviation of poverty, claiming that all people treated equally irrespective of race, sexuality, appearance, religion, or language.
According to the official release, the unveiling of the Statue of Equality is part of the 12-day Sri Ramanuja Sahasrabdi Samaroham, which is commemorating Sri Ramanujacharya's 1000th birth anniversary.
Also do know other details and places in Hyderabad
Peddamma Temple Hyderabad Timings
Numaish Nampally Exhibition Hyderabad Timings
Uppal Shilparamam Timings
Details About Sri Ramanujacharya statue
Sri Ramanujacharya was a social reformer who was born in Sriperumbudur in the year 1017. One of the world's highest statues of a sitting figure. It is located in Muchintal village, on the outskirts of Hyderabad, and spans 45 acres.
Because of his remarkable devoted obedience during Sri Rama's incarnation, Bhagavad Ramanuja Swamy holds Hanuman in high regard. Hanuman carried Sri Rama on his shoulders when the Lord descended in the shape of Vibhava as Sri Rama, demonstrating to everyone that Lord Rama is the Ultimate Savior and that He is none other than Lord Srimannarayana. As a result, a Hanuman statue placed at the entryway.
PM Modi took part in the event and unveiled the 216-foot-tall "Statue of Equality." Sri Ramanujacharya's spiritual thoughts and teachings inspire us. And this was an appropriate tribute to him.
3D Presentation Mapping on Sri Ramanujacharya's journey and teaching also shown during the session.
The Prime Minister also paid a visit to the 108 Divya Desams ornately carved temples. That encircle the Statue of Equality, which are replicas of the originals.
Map Of statue of equality location:
Statue of equality Hyderabad Location: In Venkannaguda, Telangana, the Statue Of Equality is a memorial park. Sri Ramanagaram JIVA Campus Shamshabad, Hyderabad, Telangana 509325 is the address.
Height of the Statue of Equality statue
The statue of equality Hyderabad height stands on a 54-foot Bhadravathi base building. It means six meters tall and three floors high. A miniature statue of Ramanuja made of 120 kg of gold, signifying the years he lived. Also, it sets in the base's meditation hall, that fashioned using panchaloha.
Ramanuja's life and philosophy depicted on the ground floor, which will measure 6,000 square meters. The temple, which used for daily worship, will be positioned on the second floor, which is 27,870 square meters.
A Vedic digital library and research centre will be located on the third floor, which will be 1,365 square meters.
There will also be an Omnimax theatre with Ramanuja's life stories and a library of old Indian manuscripts.
Opening Timing: statue of equality timing
Monday through Saturday, the store will be open from 6 a.m. to 11:30 a.m. and 4 p.m. to 5:30 p.m.
On Sunday, the restaurant is open 24 hours a day.