Tamil Nadu Treasury has launched an online portal for government employees to make online payments. Now, they can access this TN Treasury Payslip portal without their e-payroll details. They can use their GPF number to access their payslip and make an online payment. ECS is short for Electronic Clearing System.
TN Treasury Payslip
Through its online portal, TN Treasury lets government employees and pensioners check their TN ECS status and obtain payslips online. It has made it easier for employees and pensioners to get their ECS status quickly and easily. The link between pensioners and employees is, however, different. In this article, you can learn about both portals.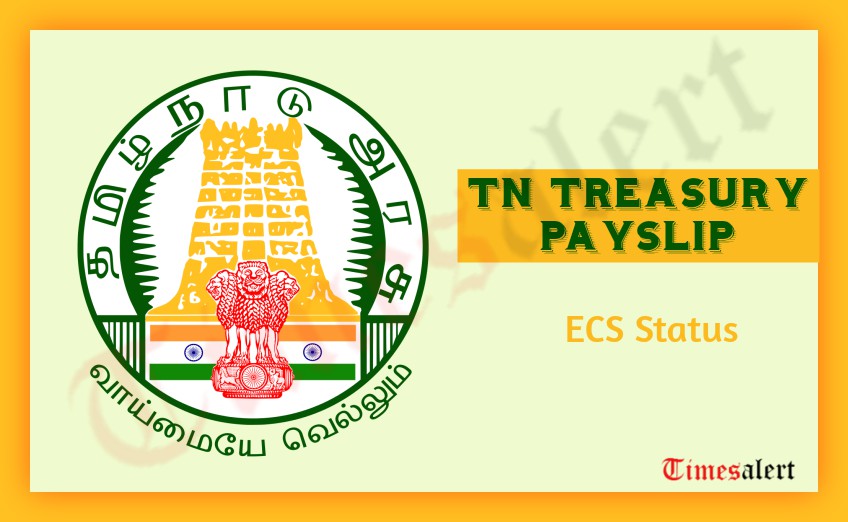 How To Check TN ECS Status Online
You can visit the TN Treasury ECS portal and do your desired operation; whether you want to make a payment or you want to download your monthly payslip, you can use the portal for the same:
Visit the official website.
Once you land on the login page, you are asked to enter details like Employee Code and Date of Birth.
Click on login to finish up the login process.
Now you can view your payslip and treasury ecs status on the web browser. You can download it and retain it on your device for future use. You also take a printout of it and keep it.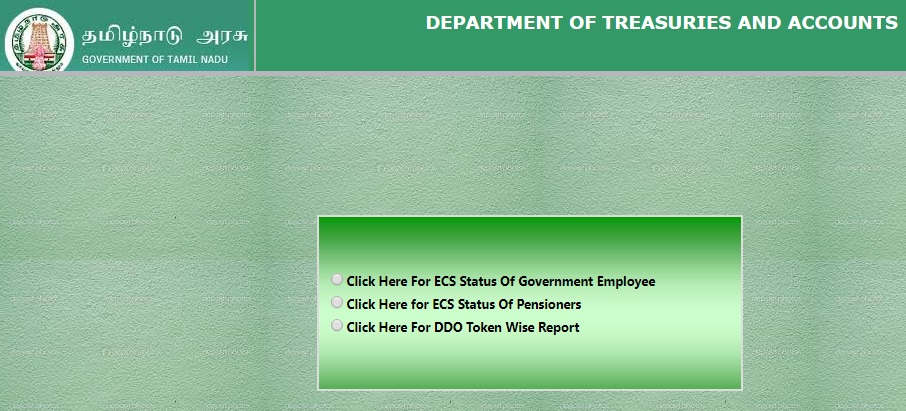 Check Tamilnadu ECS Status of Government Employees
You can check your ECS status if you are a government employee. For checking, you need to have your payroll details. You can still view it if you don't have it by entering the GPF number. Follow the given steps to know your details:
Visit the official portal of TN Treasury.
Click on "Click Here for ECS Status of Government Employee."
After this, a new webpage appears. On this webpage, click on "Detailed Report by GPF number."
Now, a new webpage appears, asking you to enter some files. Enter the required details and click on submit button.
Now you can know the tn treasury payslip ECS status. If you want, you can print your ECS status as well.

Check TN ECS Status For Pensioners
Visit the official link.
Click on the login button on the top right of the page.
Enter all the details, like your PPO number, password, and CAPTCHA code.
Make sure all these details are correct.
Hit on the submit button.
Pensioners can now check their TN ECS status. Pensioners can also download a soft copy of their payslips or print a hard copy of the ECS status. Also, check RESS Payslip and CISF Employee Corner Salary Slip and learn more about them.
How To Reset TN Treasury ECS Password
If you forget the password for your login, you can reset your password. Resetting the password hardly take takes 10 minutes. So it won't take you much time. This option is available for Pensioners only. Pensioners can edit the password by following these steps:
Visit the official portal.
Click on the login button.
Click on the Forgot Password button.
A new web page opens up. Now, you must enter the PPO number's details and more.
Now, a new window opens on your screen for setting up the new password. Please enter the new TN Treasury Login password, and re-enter it to confirm the new password. Then, enter the CAPTCHA or image code.
Submit all the details to set up your new password.

TN Treasury Payslip ECS Status Online Benefits
When you generate Payslip and ECS data online, your credentials remain safe and secure. Since you are the only one with access to login credentials, you can only log in and check the details.
It takes less time than an offline process. Also, you can access these services by sitting at your home instead of moving out and standing in long.
Conclusion
Online payslips are regular, fast, and secure. They avoid the wastage of time consumed by standing in long queues. To prevent problems faced with offline payslips, the Government of Tamil Nadu has launched an online portal, treasury2.tn.gov.in using which employees can generate an online TN Employee payslip. Apart from this, they can make online payments and keep track of them. To know more other details, check Timesalert.