Mount Opera Park Hyderabad is a multi-theme park report at Mount Opera, Hyderabad. Here people can get a wholesome package of fun and entertainment experience. In this park variety of mechanical, water rides, kid's rides, etc. are available for the visitors, which also attract the people more. Especially in summer, people can enjoy different types of water rides or pools.
For all kinds of visitors, the water rides are available in this Mount Opera Park Hyderabad. One of the theme water park, where people can enjoy the water rides with natural environments. Inside the park many resorts, restaurants, etc. are available for the visitors. The timing of the Mount Opera Park, the entry fee, ticket cost, and other facilities, which are available in this park have discussed in this article.
Mount Opera Hyderabad
Mount Opera Park is one of the famous water parks in Hyderabad. The mount opera is a theme park resort, where a variety of rides, activities, games, etc. available for the people. The famous tourist places in Hyderabad, which offers lots of entertainments and fun to the people. The Mount Opera Park located approximately 38kms away from the central city, which is present in the Hyderabad – Vijayawada national highway. The Ramoji Film City is 4 km away from the Mount Opera Park Hyderabad. It has spread over 55 acres surrounded by natural view.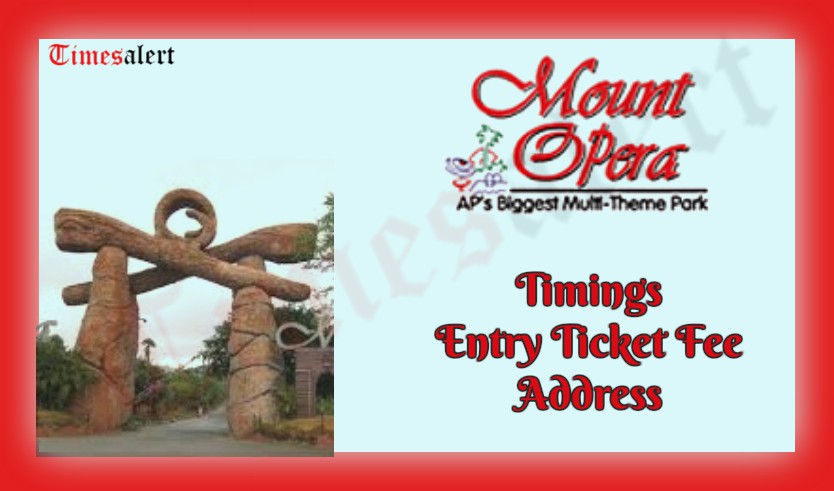 In Mount Opera, there are specific rides available for the kids and adults. People come here to enjoy the rides and other activities with their family and friends. For the visitors who want to stay here, suites and cottages also available at best prices. They can also book the hall for evening meetings, seminars, and open-air venue. This place is best for all kinds of events. Many restaurants, coffee bar, food courts are available for the visitor's comfort. At least once people have to visit here to gain some new experience.
Mount Opera Park Hyderabad Timings
On weekdays the opening time of the Mount Opera park is 10:00 am and closed at 6:00 pm. But on weekends and holidays, the opening and closing time is extended. The park opens at 10:00 am and closed at 7:00 pm.
| | |
| --- | --- |
| Days | Mount Opera Timings |
| Sunday | 10:00 am to 7:00 pm |
| Monday | 11:00 am to 6:00 pm |
| Tuesday | 11:00 am to 6:00 pm |
| Wednesday | 11:00 am to 6:00 pm |
| Thursday | 11:00 am to 6:00 pm |
| Friday | 11:00 am to 6:00 pm |
| Saturday | 10:00 am to 7:00 pm |
Mount Opera Hyderabad Entry Ticket Fee
| | |
| --- | --- |
| Visitor | Entry Fee |
| Adults | Rs. 425/- |
| Child | Rs. 330/- |
| Senior Citizen | Rs. 150/- |
Rides in Mount Opera Amusement Park
In Mount Opera, loads of rides are available such as mechanical rides, water rides, and kid's rides. In all sections many rides are available. Some rides are free of cost, and for some rides, people have to pay for this.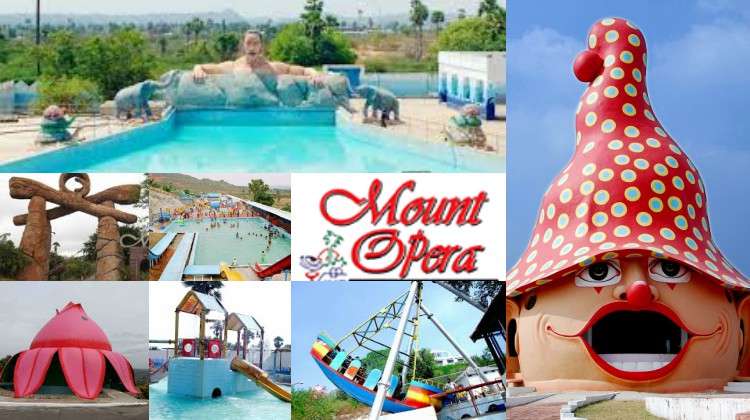 Mechanical rides (Free Rides)
Jumping Frog
Slam Bob
Merry Cups
Merry Go Round
Tele Combat
Ferry's Wheel
| | |
| --- | --- |
| Mechanical Paid Rides | Ticket Cost |
| Thrillarium | Rs. 45 |
| Go- Karting | Rs. 90 |
| Dashing Cars | Rs. 40 |
| Boating | Rs. 40 |
| Bungee Jumping | Rs. 30 |
| Trampoline | Rs. 30 |
Water Rides
Landing Pool
Disco Dance Floor
Rain Dance Floor
Kid's Pool
Family Pool
Water Slider
Wave Pool
Kid's Rides
Roller Slide
Pyramid Net
Dinosaur View
Wide Slide
S Bridge
Balancing Bridge
Ice Cream
Funnel Climber
Double Swing
Walking Barrel
Satelite Scrambler
Spiral Scramble
Other Facilities in Mount Opera
In mount opera park, there are many other facilities available for the visitors. Inside the park, many suits and cottages available at affordable prices. Where visitors can rest or stay in it. The prices of these suits and cabins are available in the mount opera official site. Also inside the Mount Opera park, banquet hall, seminar hall and open-air venue available. People can book the auditorium for their events. In Mount Opera, Dolphin restaurants, multi-cuisine restaurants, and coffee bar are open, where people can enjoy the testy foods.
For more information about Mount Opera Click Here
Mount Opera Park Contact Number Location
Mount Opera Park Contact Number – +91- 9849550059/ 9177444471, 93399999407
Mount Opera Address – Mount Opera, RangaReddy, Hyderabad – Vijayawada Highway, Telangana-501512
For more information and updates, check Timesalert.