Cable TV operators are quite common in India. People in rural areas, especially prefer Cable TV operators rather than dish services, because of the low cost of Cable TV and the availability of local and regional channels.
TCCL
One such Cable TV operator is TCCL stands for Thamizhaga Cable TV Communications Private Limited. It is a well-known Cable TV operator functioning in the state of Tamil Nadu.
TCCL was launched in 2012 in Chennai to gain more recognition all across the state of Tamil Nadu. It is gaining more and more popularity because it provides HD content to its customers. Unlike, normal cable services, TCCL provides a proper set-top box to the customers and also provides all the latest software updates available.
TCCL LCO Registration
TCCL provides about 500 channels to its users and about 80+ HD channels. Millions of subscribers have already installed TCCL cable at their homes. Now, after spreading across various regions of Tamil Nadu, the TCCL network is expanding itself to Andhra Pradesh and Karnataka as well. TCCL also provides a broadband service which is very economical for the users.
In this article, we will elaborately discuss TCCL cable operators, how to register with TCCL, various packages offered by TCCL, and how to download the TCCL App.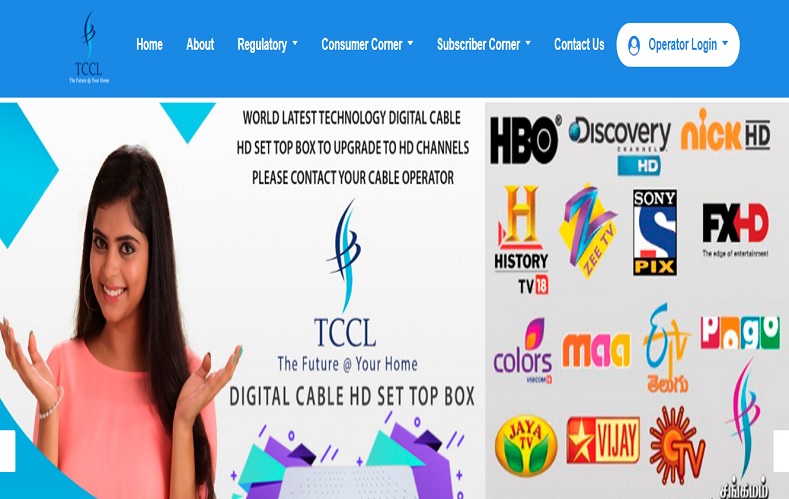 How to register TCCL Operator Login?
To use the service of TCCL, you need to register yourself with them, so that the cable and set-top box are installed in your home and you can stream HD quality TV. Follow the steps given below to register with TCCL:-
Go to the official portal
First and foremost, you need to go to the official website, where you can register yourself. Go to the official TCCL website.
Open the registration form
To open the registration form, go to the Subscriber corner and click on "CAF form" on the home page of the TCCL website.
Enter all the necessary details in the form like your name, telephone number, address, payment details, type of hardware package, and a declaration.
Now, after filling the form go to the nearest TCCL office and submit the form along with the demand draft addressed to TCCL with the amount respective to the hardware package you have selected. You can also call the toll-free number 1800 102 98 45 to subscribe to the cable services.
TCCL Login
After you have registered, you need to log in to your TCCL account to update any changes related to your Cable services. To login to your TCCL account, follow the steps given below:-
Visit the official website
To log in to your TCCL account, you need to go to the official website.
On the home page, you will see the subscriber corner in the menu. After clicking on it, a drop-down will appear, click on "Subscriber Login" to proceed.
Now, you will be redirected to a new page, where you can choose your login type which can be either through User name, Customer ID, Account Number, Mobile Number, VC Number or Serial Number and enter the password and click on login and you will be logged in to your TCCL account to make the necessary updates that you want.
TCCL Set-top box connection Booking
You can easily make a booking for installing your set-top box at your home. Follow the steps given below to do the same:-
Go to the official TCCL website
Once again, go to the official TCCL website
At the bottom of the page, you will see a book your connection tab. Here, you have to fill in all the relevant details like name, phone number, e-mail address, subject, and message.
After filling in the details, you will receive a call from TCCL to schedule your booking and your set-top box will be installed by the TCCL team at the scheduled time.
Various TCCL packages
There are many packages available under the TCCL cable. Some of the packages along with their respective prices are as follows:-
Digital Home Basic- 100 per month+ taxes
Digital Home Starter- 115.7 per month+ taxes
Home Premium- 133.5 per month+ taxes
Digital Home Pro- 185 per month+ taxes
Digital Pro Hindi- 185 per month+ taxes
Home Ultimate- 275per month+ taxes
TCCL Customer Care
In case, you have any queries related to TCCL, you can contact them on:-
Official Address: 9A, 5, Club Rd, M.S. Nagar, Mukta Gardens, Chetpet, Chennai, Tamil Nadu 600031
E-mail address: [email protected]
Contact number: 1800-102-9845 | 044 – 4060 6666
For more updates and information check Timesalert.