Free voice generators are user-friendly programs with realistic voices that can read to you any text, including emails, webpages, PDF files, and Microsoft Word documents. It will make your statement more catchy and inclusive and is a simple, quick, and straightforward method of converting text to speech.
Voice Generator Free
ReadIt
Voice generator text-to-speech software for Windows is well-known ReadIt. This freeware makes it simple to convert text to WAV format. On the settings menu, we can change according to the requirrrement. There are various voices from which to choose. We can make some changes in the speech pace. Any text file can be opened and read. It is simple, and its features are user-friendly.
RoboBlather
Free text-to-speech software for Windows is called RoboBlather. One can read out the text you typed or put into its window. We can save the text in the WAV format as audio by selecting the Render to File option.
There are five voice speed options, ranging from Extra Slow to Extra Fast. The application is user-friendly and features a straightforward interface.
Voicebooking Free Voice Generator Online
The finest site for hiring top voice actors is voice booking. It is a voice generator from a text that is free. They are all top voice actors in their respective language categories and are all-natural speakers. Because they are experts in remote recording, your project will be organized more quickly and at a cheaper cost than it would be in a traditional studio.
uListen
A free text-to-speech program is called uListen. It can read out text files, word documents, CHM files, PDF files, and web pages. Support a variety of file kinds, including PDF, HTML, DOC, and TEXT. We can download the speech in MP3 format. It can read RSS feeds aloud automatically. When speaking, it might highlight certain words. We can choose any position as the speaking stance.
SayItNow AI Text To Speech Online Voice Generator
Online voice generator text to a speech called SayItNow is a multi-voice generator. To speak, you can type or paste any text into the window. Any web page you load into its window will speak its content to you. The text is saved in WAV format as audio, and we can change the speech rate easily. We can use different installed voices according to our wishes.
Listen
This quick and straightforward TTS website turns brief passages of text into synthetic speech that sounds like authentic voice using the Google Text to Speech API. Download or listen to an online MP3. Although you can only type 100 characters at once, the voice quality is excellent, and more than 100 languages, including Esperanto, are offered.
Text To Speech Voice Generator Online
Talking book
Talking Book is a free and straightforward female voice generator to use text to speech converter. It can read any text you enter or a TXT file louder. Additionally, it contains a recorder that can create WAV files of the reading text. For people with visual impairments, the program is beneficial. Its user interface is friendly.
Stop reading
Accessible and straightforward freeware called Stop Reading can read any text aloud. Any text you enter or copy from the clipboard will be spoken to you when you click the Speak button in the window. It employs speech synthesis technology to give English text a voice that sounds like a human. You can stop and start again.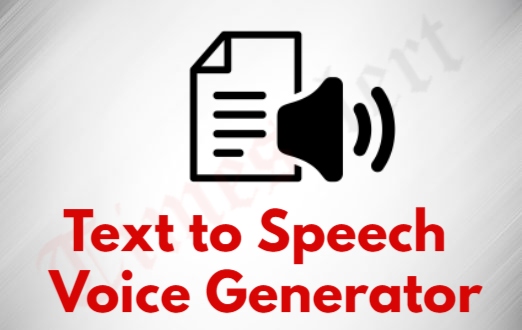 Wideo
You can either type your message straight into the box below or upload a text file from your computer by using Wideo, a voice generator by text. After that, select the voice and speed that you prefer. The virtual voice actor will work its magic. To hear your message and download it as an mp3 file, click "play."
SCICA Speech Convertor
A compact and simple to use text to speech program is SCICA Speech. The speaker's voice, rate, and loudness can change anytime. We can read any text you input or paste into its window. We can save the speech in WAV format. The text's typeface is also editable. Anyone can easily use this program.
Read Aloud
Voice generator free online used to convert text-to-speech. This software named Read Aloud. It can read aloud content from many different sources. It contains a text reader for websites that searches for specific web pages and reads them out loud. You can paste the text into its window, and it will read it for you. It has a TextPad. Additionally, it contains a clipboard monitor that can read a clipboard's contents.
Best Online Free Voice Generator
Speechify
You can download this software for free on your mobile device, which offers limitless reading and playback controls. But you'll need to pay US$2.99 per month for the premium version if you want to use high-quality voices, extract text from images, and sync audiobooks to your phone.
Read4Me
AI voice generator free to revert text-to-speech, and such a program is called Read4Me Clipboard Reader. It can read any typed text. Additionally, it can read the information on the clipboard for you. Using this software, we can instantly convert any TEXT file into an MP3 file. It is simple to alter the speech rate and volume by adjusting the slider. You can download more voices from the internet using the link provided in the software window.
Download Free Text To Speech Online Voice Generator
ReadSpeaker
The free voice generator tools from ReadSpeaker can be used on your server or in the cloud. Using neural networks to mimic human expression, they produce natural, human-like voices, including distinctive brand voices. For usage in websites, apps, voice user interfaces, public address systems, IVR, and other platforms, ReadSpeaker offers synthetic speech. See how businesses are already gaining from these best-in-class text-to-speech services by looking through their case studies.
Conclusion
The above list includes free Text-To-Speech and Text-to-MP3 voice generators for any English accent. You can quickly and for no cost have your text spoken professionally. These programs are ideal for presentations, YouTube videos, e-learning, and improving website accessibility. The voices use a particular accent to read your letters in their native tongue.