Wild Waters Hyderabad: In Hyderabad, many amusement parks are available for people and visitors. This amusement park has so many water rides, thrill rides, etc., for the visitors to enjoy. In holidays, especially in summer, many people visit the water park with their family and friends to enjoy the whole day.
This Wild Waters is also an amusement water park in Hyderabad. People can enjoy several rides on it. All the details about the Wild Waters timings: entry Ticket price etc. given below: check the article for more information about this water park.
Wild Waters Hyderabad
The Wild waters park is located in Shankarpalli, Hyderabad. This park is a theme water park designed for all category visitors. For people who love to do water rides, then this is heaven for them. All kinds of rides, like thrill rides, water rides, family rides, and kids rides, are available in these Wild waters. One of the biggest amusement parks in Hyderabad. This park has spread over 30 acres area in Shankarpalli. People can enjoy a lot in this park. For family members, especially, family rides are not in other water parks. All the ride sections are separate. So, people can enjoy their days with a lot of fun.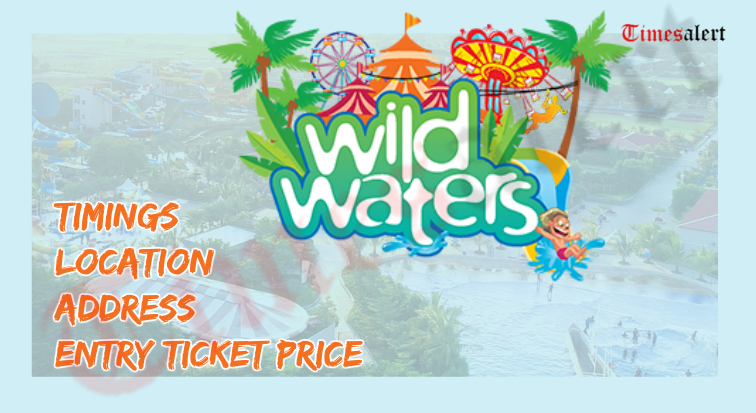 The Wild waters park is the second biggest water park in Hyderabad. In this park, almost 60 dry and water rides are available. All trips are separated with different names, like family rides, thrill rides, kid's rides, etc. Also, in Wild waters park, an aqua park is designed, which presents different types of water rides and games for the visitors.
In Aquapark, there is a total of 21 water rides available where people can spend their whole day with so much fun and having a great experience. People can also search here for the Wonderla Amusement Park, where you can enjoy several different water and land rides.
Wild Waters Hyderabad Timings (opening and closing)
The Wild Waters Hyderabad is always open for visitors. People can come here at any time. The park authority set a time for visitors to Wild Waters Park. Check the timing before visiting.
| | |
| --- | --- |
| Days | Timing |
| Sunday | 11:00 am to 7:00 pm |
| Monday | 11:00 am to 6:00 pm |
| Tuesday | 11:00 am to 6:00 pm |
| Wednesday | 11:00 am to 6:00 pm |
| Thursday | 11:00 am to 6:00 pm |
| Friday | 11:00 am to 6:00 pm |
| Saturday | 11:00 am to 7:00 pm |
Wild Waters Hyderabad Entry Ticket Fee 2023 
The Wild Waters Hyderabad Entry Fee is different for all category visitors. 18% of GST added to the ticket price. The ticket is free for kids whose height is below 90 cm. After that, the ticket price for Adults is Rs. 1185.59 /- and for Children is Rs. 948.31 /- Senior Citizen's ticket price is  Rs. 888.98/-. and Students Rs. 1016.10 /-.
| | | |
| --- | --- | --- |
| Visitors  | Wild Waters Park Entry Fee              ( weekdays) | Wild Waters Park Entry Fee             ( Weekends ) |
| Adult | Rs.1185.59 /- | Rs. 1185.59 /- |
| Child / Senior Citizen | Rs. 948.31 /- | Rs. 948.31 /- |
| Park Entry Senior Citizen | Rs. 888.98 /- | Rs. 888.98 /- |
| Park Entry Student | Rs. 1185.59 1016.10 /- | Rs. 1185.59 1016.10 /- |
Rides in Wild Waters Hyderabad
There are lots of trips available in the Wild Waters Hyderabad. All rides in it are unique and different compared to other water parks. Also, the rides are categorized and can be enjoyed by all age groups, from younger to older. So one has to visit this magnificent water park where you will enjoy and make a great remembrance.
Family Rides:
Paradise Beach
Rain Disco
Pirates Cove
Aqua Play
Crazy River
Wave Rider
Rapids
Voyage
Tornado
Matt Racer
Free Fall, etc.
Thrill Rides are:
Twister
Loop Racer
Hurricane
Boomerang
Loop Coaster
Hara-kiri
Tunnel
Backlash
Pendulum
Cyclone, etc.
Adventure Rides:
Rope Course
Archery
Surf Rider
Rifle Shooting
Rodeo Ride
Rock Climbing
Cricket Nets
Bungee Trampoline, etc.
Kid's Rides are:
Mini Disco
Ferris Wheel
Flying Car
Apache Ride
Jumbo Train
Flying Bees
Ocean Walk
Frog Hopper, etc.

Wild Waters Hyderabad Facilities
Additional facilities like food and dress code are available in this wild waters Hyderabad. The water parks offer mouth-watering dishes to the visitors so they can enjoy their rides with delicious meals. In this wild water Hyderabad park, many food courts are available. Where people can buy beverages, snacks, and ice creams; also, people can visit the Island Cafe, which offers many choices for meals.
Things To Remember in Wild Waters Park
The visitors have to follow some rules in wild waters in Hyderabad. The rulers are:
People can't take outside food and drinks inside the park
Pregnant women, heart patients, and BP patients are not allowed in high-thrill rides
People can't wear footwear at the time water rides
People who have long hair have to wear a swimming cap on water rides
Visitors can check the Wild Waters Hyderabad Park official website for more details.
Wild Waters Hyderabad Address
Wild Water Hyderabad Address – Masaniguda, Shankarapalli, Palm Exotica, Hyderabad -501203

For more information, check Timesalert.