NIKON Scholarship Program for Youths 2023, a golden opportunity for photography enthusiasts from one of the world's most famous camera brands. The Nikon India Private Limited Committee has submitted a project for young applicants who want to take part in photographing-related courses called a NIKON Scholarship Scheme. This scheme of fellowship aims to support and fund students from less fortunate areas of society to enroll in courses related to photography.
Nikon Scholarship 2023
When talking about eligibility, students who are done with grade 12 and who are enrolled in a photographic course for a period of 3 months or more, can apply for this Scholarship.
NIKON Scholarship Program applications are now open and are still eligible (extended) until 30 November 2023. Follow along with this article to get more details about the application process, essential dates, eligibility conditions, selection procedures, etc.
Eligibility Criteria for NIKON Scholarship Program
Open for students practicing courses relating to photography, lasting 3 months or more.
Students who have passed 12th grade.
The family of the candidate should have an annual income smaller than INR 6,00,000 year.
The students and workers of Nikon India Private/ Buddy4Study will not be considered for this program.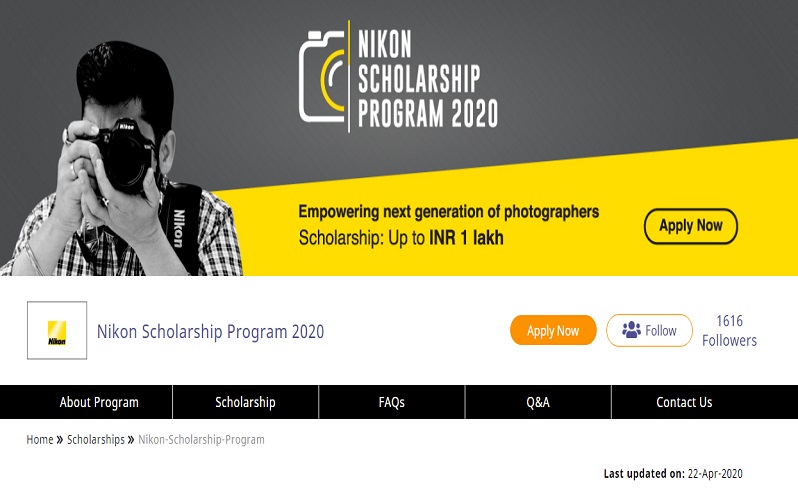 Nikon Photography Scholarship Amount
An amount of INR 1 Lakh will b granted to the student to provide financial support for their photography course.
Selection Process for the NIKON Scholarship Program
A multi-stage procedure is essential to pick students for this Scholarship program. Based on their families and academic history, the students have chosen. The following are the essential steps within the screening process:
Screening of applications based on educational and financial objectives.
Telephone interviews of candidates for further selection.
Face-to-face final selection interview (if necessary).
NIKON Scholarship Program 2023 Apply Online
Eligible applicants should apply online through the Buddy4 Study portal for the scholarship. Chase the moves given below to apply for the NIKON Program
Visit the page for more information
Carefully read and press the button "Apply Now."
 Open your application tab. To start the application, press the "Register" button, or click "Start Application" (if previously registered)
Fill up the Nikon scholarship application form and upload all the appropriate matter.
Submit the application that accurately completed.
Documents Required To Apply For Nikon Scholarship Online
During the online application, candidates need to make sure that they have submitted the documents mentioned below
Photo identity proof
Address proof
Self-attested copy of Class 12 mark sheet
Proof of Admission like the college ID card, fees receipt of admission, etc.
Current academic year fee receipt
Bank account credentials of the candidate such as a copy of canceled cheque/passbook
In keeping with its Corporate Social Responsibility (CSR) activities to inspire people and improve society, Nikon India, a global leader in the field of photography and optics, provides this scholarship. Over the years the organization has pursued numerous programs to support education, including special education and the promotion of jobs.
Conclusion
The Nikon Photography Scholarship is for the students who have completed the 10+2 stage of study and are ready to take up their careers in the photography world. For the completion of the course, 5 students chosen the granted Rs 1 lakh.
Interested and qualifying applicants have the chance to apply only online until 30 November 2023. To get shortlisted, the student should meet the eligibility criteria, and then a telephonic interview held. After this, there will also be a face-to-face interview (if necessary).